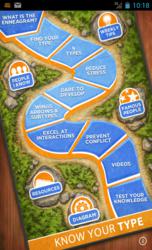 "The Enneagram is already used by millions of people across the world, and this App will greatly expand accessibility and awareness for millions more."
Santa Monica, CA (PRWEB) November 13, 2012
The Enneagram in Business, led by founder Ginger Lapid-Bogda, announced today the highly anticipated release of its App, Know Your Type, now for Android phones and tablets. Know Your Type for Android joins its predecessor, Know Your Type for iPhone, bringing a comprehensive and interactive experience to the Android user by enhancing self-discovery and understanding in interactions using the powerful Enneagram personality system as a guide.
In Know Your Type, users first discover their own personality type through an animated, interactive process. Once personality type has been identified, users can explore pathways to excel at interactions, reduce stress, prevent conflict, and expand self-improvement. Further, users can access videos of real people discussing their types, test Enneagram knowledge in real-world scenarios, and sign-up for insightful weekly tips.
"With over 15,000 downloads of the iPhone version, we are pleased to answer the call from Android users today with Know Your Type for the Android platform," says Lapid-Bogda. "The Enneagram is already used by millions of people across the world, and this App will greatly expand accessibility and awareness for millions more."
Know Your Type for Android is now available for $2.99 worldwide. It is available from Google Play, or by visiting http://www.EnneagramApp.com, which also includes App details and screenshots.
Ginger Lapid-Bogda, Ph.D., is an internationally recognized Enneagram author, teacher, and organizational consultant. Her company, The Enneagram in Business, helps individuals and organizations use the Enneagram system for success in their personal and professional lives, offering world-class training materials, public certification programs, a subscription-based eLearning Portal, and a worldwide network of Enneagram professionals (Enneagram in Business Network) that provides best-in-class Enneagram training, coaching and consulting, both globally and locally.
###
If you would like further information about Know Your Type, The Enneagram in Business, or to schedule an interview, please contact:
Ginger Lapid-Bogda, Founder, The Enneagram in Business
Phone: 310-829-3309
Email: ginger(at)theenneagraminbusiness(dot)com
http://www.TheEnneagramInBusiness.com