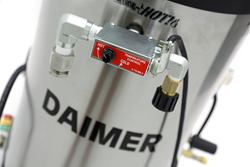 "Daimer® is thrilled to offer the Super Max 6000™, one of the industry's highest temperature portable electric/propane, industrial steam pressure washer systems. The Eco-friendly machine's extremely hot steam temperatures up to 330ºF ..."
Woburn, MA (PRWEB) November 10, 2012
Daimer Industries, Inc.®, a world-famous American made supplier of advanced pressure washer equipment, such as electric pressure washer machines and gas pressure washer systems, has launched the Super Max™ 6000 with the industry's heaviest-gauge heater exchange stainless steel coil technology for the ultimate in temperature and product durability. Stainless coils last up to three times longer than stainless while providing unmatched steam temperatures. The pressure washer machines are durable enough to withstand tough commercial cleaning applications for many years.
"Reliability and product toughness are a couple of the most important aspects when evaluating a steam cleaner pressure washing machine. Challenging cleaning applications require systems with the highest-quality components," states Matthew Baratta, spokesperson for Daimer Industries, Inc.®. "Daimer® is thrilled to offer the Super Max 6000™, one of the industry's highest temperature portable electric/propane, industrial steam pressure washer systems. The Eco-friendly machine's extremely hot steam temperatures up to 330ºF provides outstanding cleaning results in a fraction of the time of other brands' models."
Daimer®'s production facilities roll the coils manually using the highest-grade stainless steel, then carefully insert them within the Super Max™ 6000 electric pressure washer. The company can maintain higher quality control by managing the coil production process rather than off-loading the fabrication to outside production operations that may not meet Daimer®'s strict standards.
Stainless steel coils are definitely critical system ingredients allowing the company's washer to emit the highest steam temperatures in the industry. The machine's heating system converts cold water to temperatures up to 330ºF within approximately 30 seconds. In addition, the Super Max™ 6000 generates pressure levels of up to 750 psi and flow rates of 1.4 gpm.
Unfortunately, most hot water pressure washer brands use automated processes and aluminum, often resulting in fragile coils that will last for a relatively short period of time. Aluminum, which is prone to corrosion and is not heat resistant, is a much softer metal than stainless and will eventually develop holes as a result of high temperatures constantly flowing though them. This softer metal has a higher propensity to fracture more easily and is weaker than stainless with respect to fatigue resistance. Aluminum is also harder to manufacture and weld.
Chemicals can further degrade weaker constructed aluminum coils, which can costs up to $1000.00 to replace. Daimer®'s strategy offers buyers a more sensible, durable, and cost-effective solution with a unmatched heating system.
The system is perfect for use as a steam car wash or car wash equipment for auto detailing, HVAC coil and condenser cleaning machine, and can be operated for many other applications targeting the fast dissolving of grease, oil, dirt, food build-up and more within commercial and industrial facilities. The applications are virtually unlimited.
The Super Max 6000™ comes with multiple temperature options, including wet steam, hot water, and cold water. Daimer®'s latest commercial pressure washer systems come with an exclusive Variable Temperature Control, which allows the user to dial the temperature and is easily accessible on the control panel. The company offers its Tri-Mode technology to allow users the flexibility to quickly modify temperatures based upon the application.
The propane-heated Super Max 6000™ Pressure Washers], featuring heavy-duty .75 HP – NEMA engine, is environmentally safe as well. It is approved for use indoors and outdoors. The system also meets USDA standards for those using the system within food and beverage facilities.
The commercial pressure washer is available with optional worldwide power configurations, such as 208V, 220-240V, 380V, 415V, 440-480V, and 575V; single and three phase; and 50 or 60 Hz. for over 200 countries. Accessories included with the hot water pressure washer are 25' high pressure steam hose, durable 3' trigger wand with quick disconnect, and 0º (blast), 15º, 25º, 40º, steam nozzles, all of which will work in wet steam mode.
The company's Long Hose Technology (LHT) allows operators to buy and use longer hoses up to hundreds of feet in length with relatively little impact in pressure. There is no negative impact in temperature or flow rate.
For Additional Information:
Visit the company's website or call Matthew Baratta directly at (888) 507-2220 to learn more about the Super Max 6000™. The machines are exported to most countries worldwide.
About Daimer Industries, Inc.®:
Daimer Industries, Inc.® is the world-leader of highly advanced machines, including gas pressure washer systems and electric pressure wash equipment, carpet clean systems, floor cleaners, steam vapor machines, and hundreds of models with exclusive patented technologies.