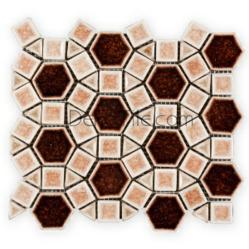 Los Angeles, CA (PRWEB) November 13, 2012
Hundreds of satisfied homeowners, contractors and interior decorators have already discovered the wonderful benefits of ordering floor tiling from DEKO Tile. Now, DEKO Tile has expanded their product line with an amazing array of exciting new patterns. Within each of the new product lines are standout designs such as the Brushed Wooden Onyx Tile, the Gray Nazar Polished Mosaic, the Topaz Jewel Ceramic Mosaic with Cracked Glass, and the White and Ice Blue Basketweave Mosaic. Each of these new tile options provides their own distinct decorative patterns that are sure to add a bold flair to any room in the home or office.
The inspiration for these new designs comes from a variety of architectural sources. There are influences from neo-classic, to Moroccan, to modern. Even the simple geometric shape of the hexagon provides unlimited decorating possibilities. Each of the DEKO Tiles offers up a unique color spectrum utilizing tones which are equal parts warm and inviting. Because of the neutral shades in these tiles, the decorating possibilities for furniture and other accents are limitless. Bottom line: DEKO Tiles don't dominate but enhance a room.
As with all the tiles available for sale through DEKO Tile's online store, the new tile patterns are available in 1 square feet pieces. These marble tiles that are easy to install and work with. That makes them perfect option for a professional contractor or DIY project. To insure that the customer is completely satisfied, DEKO Tile offers a sample of all of their tile patterns for comparison to other possible tile options.
DEKO Tile will typically ship the tiles the same day as the order placement with the shipping costs determined before placing the order. They also offer a 14 day return for any reason. With the wide variety of tiles and ability to compare samples, its clear DEKO Tile is the best online option for flooring.
About DEKO TILE:
DEKO Tile is one of the largest direct importers of flooring and wall tiles. DEKO Tile was founded in 2001, with a focus on natural stone products. Over time, we expanded our product portfolio to include glass, metal and other materials. Our mission has been to provide the trade professionals and do-it-yourselfers with high-quality flooring and wall covering products at affordable prices. We strive to achieve this mission by cutting the middleman and supply these products directly to the end users.
For more information contact DEKO Tile @ 310-669-8880