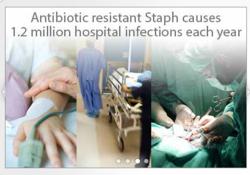 Port Townsend, WA (PRWEB) November 13, 2012
Embrace Health Inc. (leaders in effective lifestyle treatments for Staph Infection sufferers) releases a new report as part of an educational series on Staph Bacteria.
Since millions are asking about it every month and the numbers are growing, this report focuses on educating people about what the superbug MRSA (or Methicillin-resistant Staphylococcus aureus) really is. Rightfully so, this MRSA bacteria is a growing concern because it is spreading – and is getting into the mainstream population, affecting schools, sports teams, well known athletes etc. Its ability to result in absences and hospitalizations for some is becoming well-known to the countless lives it has affected..
And while new treatments are tested often enough, this bacteria adapts very quickly; MRSA is known to outwit the exact same antibiotics manufactured to treat it.
It is clear from the 1 million plus searches per month on the phrase "what is MRSA" alone that the general public has no idea about this SuperBug but that they are growing more and more aware of it. It is also clear by the collective of additional searches for pictures or about signs, symptoms, diagnosis, control and treatment etc. related to this bacteria that it's not just a topic of curiosity for people, people believe they too may be suffering from it.
Why the public is growing more aware could be due to a number of factors. For one, it was recently reported that MRSA hospitalizations outnumbered those of HIV and FLU hospitalizations combined in the last year.
The numbers are extremely alarming yes so there is no doubting that such news would catch someone's attention and make them wonder.
But we have also seen the news of well-known professionals and athletes taking "time off" from their spotlight professions – to tend to their own infections. Not to mention we are seeing a regular increase of Staph Infections in our public school systems. This is very evident by the continually growing number of tweets on the subject. Many are originating with high school students now.
So, no longer is this bacteria confined within the walls of surgical centers and hospitals for sick people. Staph bacteria live among us. In most cases it's dormant yes, and while 30% of our population is already carrying the bacteria, very few will see it come to life.
But MRSA Staph however, this vicious, life threatening form of Staph Infection is wreaking havoc on our friends and family because it is just so tough to beat with antibiotics alone.
It concerns author Michelle Moore that very few people are aware of just how devastating MRSA can be, but she is not alarmed and wants to ensure the public that they should not be either. Michelle has helped over 11,000 people beat their MRSA Staph Infections over the last 4 years with awareness, prevention and lifestyle remedies that work.
And as part of her initiative to reduce the spread of this infection all together, Michelle has compiled a micro-booklet on the MRSA bacteria so that those looking for information can find it from a trusted source, in an easy to understand manner.
Included in the booklet are seven sections detailing what MRSA is, how it spreads, the different kinds of MRSA, how it is diagnosed, the risk factors, MRSA facts and myths and how to protect yourself.
To download a copy today visit: http://www.staph-infection-resources.com/what-is-mrsa.html