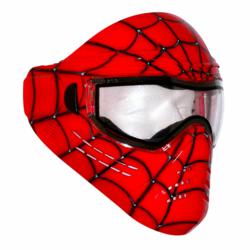 the sickest mask on planet earth simply awesome
Morgan, UT (PRWEB) November 11, 2012
Sportsmen and paintball players, that are looking for the world's best Face Shields, Face Mask, Safety Mask, Welding Helmets, Paintball Masks, Air Soft Mask, Military Training Mask, Boating Mask, Sport Utility Mask for ATV's, Boats, Motorcycles, Sand Rails, Snow boarding, Snow Skiing, Snowmobiling, you have come to the right place.
Save Phace is the world leader in face protection and if They don't already make it, They can get'er done. Get ready for Phace protection like you've never experienced before!
Action center paintball and paintballguns.tv will be featuring custom paintball packages with the save Phace brand goggle as part of the package. No other paintball store will have anything like it, check out our Christmas super sale now, and save big.
Sportsman that are looking for a soft rubbery flimsy Goggle-Mask, have come to the wrong place. For the The most comfortable Mask on the market, Fog free, looks Awesome, and will put fear in the heart of your opponent, Paintball players have found the right paintball store, players can customize the goggles the way they want, The goggles have replaceable Foam, and the safest mask on the market, and something that will last a long time, They are ASTM and CE Certified for Paintball and AirSoft play, And Can be used under most Motorcycle helmets too!
for information here are the links to our sites
Save phace @actioncenterpaintball.com
savephace@paintballguns.tv