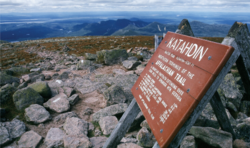 (PRWEB) November 12, 2012
HikingBoots.com is celebrating the 75th anniversary of the completion of the Appalachian Trail with 75 reasons to hike it end to end.
Known commonly as the AT, the Appalachian Trail at 2,180 miles is the longest hiking-only footpath on the planet. It was completed in 1937 after 15 years of intense labor. Seventy-five years later, the trail that spans from Georgia to Maine is a much different place. According to the Appalachian Trail Conservatory, about 99 percent of the trail has been relocated and rebuilt.
To pay homage to the trail, HikingBoots.com collected 75 Reasons to Hike the AT. These reasons run the gamut and include everything from the best shelter facilities to the best place to grab a plate of fries. Some of the top highlights include the Hundred-Mile Wilderness, a portion of the AT that contains no roads for 99.7 miles, and McAfee Knob, the most photographed spot on the trail.
"We hope this list inspires more hikers to explore even just a section of the Appalachian Trail," said Chad Weinman, CEO of HikingBoots.com. "We also want to give those who have hiked it the opportunity to reminisce and share their favorite spots on the trail."
To accompany the list, HikingBoots.com created an Appalachian Trail infographic to help hikers visualize the trail with some key points. Readers are encouraged to share their reasons to hike the AT at HikingBoots.com News or on HikingBoots.com's Facebook Page.
About HikingBoots.com
HikingBoots.com is an online specialty hiking store based in Chesterfield, Mo. Founded in 2004, the superstore provides a wide selection of technical footwear for explorers from top brands like Columbia, Merrell and Timberland. From light hiking to backpacking, HikingBoots.com tracks the latest trends in footwear and delivers them right to your doorstep.