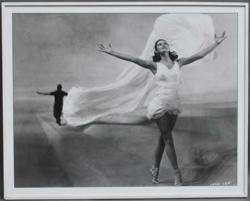 Monroe, CT (PRWEB) November 11, 2012
Antiques, decorative items, paintings, and memorabilia from the estate of dancer and actress Cyd Charisse will be sold at auction Nov 18th at Fairfield Auction in Monroe, Connecticut. Considered one of the premier entertainers during the golden age of Hollywood musicals, Cyd Charisse is known for her roles in award-winning films Singin' in the Rain and The Band Wagon. Charisse was married to singer Tony Martin for sixty years.
Charisse's notable onscreen pairings included dancing legends Gene Kelly and Fred Astaire. It was also reputed that Charisse's legs were once insured by MGM for a million dollars each.
Among the items up for auction are her Friar's Club Lifetime Achievement Award and an oversized vintage photograph from her "Broadway Melody Ballet" sequence with Gene Kelly in Singin' in the Rain. Furniture from her Beverly Hills home going under the gavel include a Venetian paint decorated secretary , an unusual Anglo-Indian Victorian chest and several Louis XV style chairs.
Items of interest from other estates to be sold include original Tiffany lamps, Asian art, silver and rare books. A large collection of fine art includes a Parisian street scene by Eugene Galien-Laloue and a large portrait by Sir Peter Lely, painter to the court of Charles II.
Fairfield Auction is located at 707 Main Street, Monroe, Connecticut and can be contacted at (203) 880-5200 or online at http://www.fairfieldauction.com.