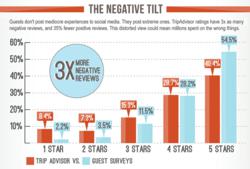 "Many hotels are using customer feedback from social media to make important business decisions when it simply can't provide an accurate picture of guest satisfaction," said Dr. Jonathon Barsky, PhD, director of research for Market Metrix.
SAN FRANCISCO, Calif (PRWEB) November 13, 2012
Hotel customer feedback based on social media is inaccurate when compared to statistically significant survey research, according to an analysis by Market Metrix. Among the findings: online reviews from the leading travel review site are severely skewed toward the negative (see graph). There were nearly 300 percent more negative responses (one- and two-star ratings) when compared to survey research and positive responses (five-star ratings) were underrepresented by 35 percent.
"Our concern is that many hotels are using customer feedback from social media to make important business decisions when it simply can't provide an accurate picture of guest satisfaction," said Dr. Jonathan Barsky, director of research for Market Metrix. "Millions of dollars are at stake as hotel executives make resource allocation decisions based on faulty information. These expenditures may not have any impact on satisfying customers and growing the business, and the things most likely to attract guests and increase loyalty may go unnoticed."
Social media data is questionable for several reasons. First, the pressure to have positive online reviews has created a market for "promotional reviews," where bogus feedback is bought and sold. A recent third-party study concluded that as many as 15 percent of online reviews will be paid for by 2014. Other estimates go much further putting the frequency of fake reviews as high as 30-40 percent.
Second, the number of reviews produced for a given property on social media is low. An aggregate view of the top 10 review sites produces an average of only about 15 reviews per property per year, not enough data to represent a clear and balanced picture of the customer experience, according to Dr. Barsky.
Finally, only 56 percent of the US population participates in social media. And for adults over 50, the number falls to just 20 percent. Although social media participation may be strong with younger demographics, the large majority of older adults – the biggest hospitality spenders -- aren't posting reviews.
Social Media Is No Management Tool
The problems with social media don't end there. It's not only that the data itself is flawed, but also that it's not useful or actionable, according to Dr. Barsky. Most travel sites take four or more days to post a review and, at that point, it's too late for the hotel to recover. "The best way to manage online reputation is to prevent negative reviews in the first place," said Dr. Barsky. "The time to fix a problem is when it occurs, not when it's already been posted to the world. "
Real-time feedback programs can help solve problems and recover guest loyalty before the guest leaves. This is a critical point, according to Dr. Barsky, because unresolved problems drive down guest loyalty by an average of 56 percent.
Also, social media doesn't allow hotels a way to distinguish the most important problems from all the rest. The only indication of significance is discussion volume on a particular topic. But volume is not the same as importance. "Some very frequent problems, like a faulty TV remote, have little impact on loyalty. Others, like a rude desk clerk, may happen infrequently but are severe business killers," said Barsky. "Hotel managers need data that will illuminate these connections and social media just doesn't do that."
About Market Metrix
Market Metrix is the leading provider of customer and employee feedback solutions for hospitality companies around the globe. By connecting feedback with revenue, Market Metrix helps hospitality businesses make smart investment decisions that both improve the guest experience and produce higher profits. Real-time feedback and action management drive timely service recovery, turning potential negative reviews into online raves. And no other feedback program offers the detailed global benchmarking of MMHI, allowing clients to spot gaps and opportunities in the context of key competitors. Market Metrix is essential to more than 14,000 businesses in over 70 countries, and has been helping forward-thinking executives profit from feedback since 1996. For more information, visit http://www.marketmetrix.com.