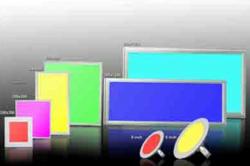 (PRWEB) November 24, 2012
With the advanced technology and rich experience, full color series LED panel light is produced by Zhongtian Lighting to be the most popular lamp for indoor lighting. With the attractive style and light weight, it can match the house well and give a special atmosphere for users. Zhongtian Lighting's LED Panel Light meets the general and decoration lighting environment such as: office lighting, school and hospital, restaurants, hotels, and subway stations, hallway & lobbies and meeting rooms.
This LED Panel Light is powered by low voltage constant current driver, which is safety, energy saving and long life. This product does not contain mercury or other hazardous chemicals. It adopts qualified super bright LED as light source, which are stable, long life and no UV & IR emission. The anodized aluminum frame is stylish and fashionable with everlasting color. Zhongtian Lighting protects customers and the environment by making the [ZT-P3030-13EAE] led panel light completely CE and FCC compliant.
This compact panel is only 12mm deep, minimizing architectural and interior design issues and it employs strong but light construction to achieve its low weight. The square [ZT-P3030-13EAE] LED panel light provides area illumination on demand with their broad 120° beam angle. It strengthens its LED panel light's micro structure, forming a more conformable light color and light quality and improving the luminous efficacy. With the improvement, the panel light is suitable to adopt in commercial spaces.
The panel can accept a wide range of AC voltages – from 85 to 265 volts ----making them suitable for a variety of operating environments worldwide. It is only 13W energy consumption, which really saves much energy than traditional lamps. What's more, with the advanced heat dissipation technology, the longer lifespan is guaranteed.
Zhongtian Lighting is committed to offering customers the high quality products with the best price. All the products of Zhongtian Lighting have competitive price with 3 years' warranty. For more information, please visit http://www.ztlights.com.