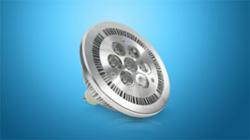 (PRWEB) November 25, 2012
With more than five year's experience in LED lighting R&D, manufacture, and sales and a focus on LED indoor lighting, Zhongtian Lighting has a very specific vision and goal as far as the development of LED lighting products are concerned. It releases the new product of 7W led spot light [ZT-A111E27-711A] to replace the conventional lamps. The company not only improves its products' specifications, but also always sees the LED lighting products' luminous efficacy as the basic requirement. It holds itself to high standards in terms of luminous efficacy, light perception, and color rendering index, in the hope of reaching the international benchmark.
The AR111 Spot is a state-of-the-art LED spotlight that can be used to accentuate objects in the home with 'warm white' and is available in different wattage variations. It outputs 650lm at the energy consumption of 7 watt. Besides, the dimension of it is D111*H95 mm and it is easy to install with a good design and light weight. Such LED spotlights add beauty to any environment where they are used. Another advantage is that instead of the traditional MHD (Metal Halide) lighting, the LED spot light can be switched on and off and on again, without having to wait for them to cool down first. Instant light and superb lighting quality! Because of its high efficiency, this LED system makes it possible to obtain considerable savings in energy consumption while providing great lighting quality. Zhongtian Lighitng's LED spots use up to 80% less energy than incandescent bulbs and can last 15-25 times longer.
In order to succeed in the commercial lighting market, a company needs to first succeed in the household lighting sector. Due to the fact that the clients in the commercial lighting market usually need their orders to be specialized and customized, a company should first improve its products and solutions and build a good reputation in the industry in order to acquire large market share. Therefore, Zhongtian Lighting is dedicated to providing the top products and best service. For more details, please visit http://www.ztlights.com.