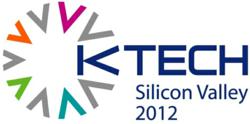 Santa Clara, CA (PRWEB) November 10, 2012
On Tuesday, November 13th, 2012, nineteen IT startup companies from Korea will pitch before a Silicon Valley audience of over 200 VCs, angel investors and entrepreneurs.
Though Silicon Valley has been leading the global IT industry for the last 20 years, Korea has also had a key role in driving IT innovation. In recent years, increasing numbers of Korean entrepreneurs have been coming to Silicon Valley on account of the changes in the industry, such as the emergence of mobile and IT convergence. These startups will showcase their technologies and new business models that have been developed in South Korea's unique tech ecosystem.
The following startups will present at K-TECH 2012, representing diverse fields such as cloud computing, mobile games, social networking and more: 4PLAT, ANT Holdings, Ensight Media, HUG Information Technology, ISELSoft, JJS Media, KewTea, Malang Studio, NaleBe, Parcel Net, Perples, Redblock, Sentence, Shiconal Soft, Taeju Industry, Tripvi, VTOUCH, Wepware and Zoyool. Korean-American entrepreneur Michael Yang, founder of Become.com and mySimon.com, will deliver the keynote speech.
These startup companies follow on the heels of well-known Korean startup success stories such as KakaoTalk, Nexon and Coupang.
According to SukWoo Hong, Minister of Knowledge Economy of the Republic of Korea, "K-TECH 2012 will be a launching pad for fueling the exchange of talent, technology, ideas, and building stronger business cooperation and partnership between the US and Korea to further economic growth in Silicon Valley."
The event will be held at the Santa Clara Marriott Hotel, 2700 Mission College Blvd., Santa Clara, CA 95054 at 1:30 pm.
About K-Tech Silicon Valley
K-Tech Silicon Valley 2012 is the first premier technology conference organized by the Ministry of Knowledge Economy of the Republic of Korea (MKE), in partnership with Korea Trade-Investment Promotion Agency (KOTRA) and National IT Industry Promotion Agency (NIPA) that will provide a platform for over 700 Korean and US IT experts and entrepreneurs to demonstrate its recent advancements in IT Convergence. By leveraging Korea's competitive labor force, productivity, and advanced IT infrastructure, Korean firms hope to form stronger partnerships throughout the value chain, broaden distribution and accelerate innovation. K-Tech's platform creates a unique opportunity to meet with over 90 IT companies from South Korea and to preview the latest IT convergence ideas and products from major IT companies such as Samsung, LG, and others. Visit http://www.k-tech.org for more information.