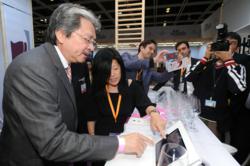 Hong Kong (PRWEB) November 10, 2012
Vinitaly International, the ambassador for Italian Wines and its Italian wine exhibitors at the 5th International Hong Kong Wine and Sprits Fair 2012 enjoyed a good start into the last quarter of the year. The Vinitaly Pavilion was the venue of choice for foodies and wine aficionados alike as more than 140 Italian wineries and some 20 Italian chefs showcased their fine products to interested Asian, and increasingly international trade professionals. The eight master wine classes, numerous cooking shows and social media seminars on wine promotion in Asia were just some of the highlights that excited the attendees.
The traditional wine tastings at each exhibitor's booth were complimented with the new Vinitaly Interactive Ipad Application to record the tasting preferences of each person using QR bracelets to provide them with a personalized tasting book.
Aspiring Master of Wine J.C. Viens hosted a number of guided tastings and was thrilled by the enthusiasm of his students: "I am delighted and ecstatic about the interest that Hong Kong people have for the fine Italian wines represented here. The potential is enormous as there is a steady growth in appreciation and knowledge for Italian wines."
This was also felt at the whole of the Pavilion as the number of attendees at the fair increased by 6% in the first two days alone with some 950 exhibitors from 36 countries and regions taking part in the fair. Despite Hong Kong's economy slowing to only 0.9% growth in the first half of this year, Italian wine imports to the region has increased by 28.7% between January and September of 2012, with French wines declining by almost 25% for the same period. Overall the market has performed exceptionally since eliminating duties on wine in 2008, as total value of Hong Kong wine imports has soared from about US$200 million in 2007 to US$1.2 billion in 2011. Hong Kong has become the world's largest wine auction centre with a total sales amounted to US$230 million last year.
According to Stevie Kim, Senior Coordinator of Vinitaly International, "Hong Kong's potential for Italian wine is still mostly unexplored and there is a lot of room for growth. Even if the Hong Kong region already imported some 48 million litres of wine in 2011 we are certain that the improved sales and storage facilities are exceptionally conducive for sustained growth as wine sales in general for Asia amounted for some US$6,2 billion up 63%. Bearing in mind that it is the gateway to China we are committed to sustained promotion and education for our wonderful wines of Italy."
Hong Kong is the only place in the world that has entered into an agreement with the Chinese Government allowing wine imports to go into China under special tax reduced conditions and offering and attractive alternative to Europe were wine consumption is declining. According to Wine Business International Chinese wine consumption grew by 140% in the period from 2006 to 2010, with imported wines accounting for 15% of the volume, representing an incredible 395% increase. Further growth of 21.5% in 2011 took the total annual consumption of all wines to 1.5bn bottles a year and projections of another 1bn bottles will be added by 2015. This makes China the 8th largest importer of wines by volume and 5th in the world for the value sales of its imported wines.
About:
Veronafiere is the leading organizer of trade shows in Italy including Vinitaly, the largest wine event in the world. In 2012, over 4200 exhibitors showcased their wines to 140,000+ visitors (35% from outside of Italy representing over 120 countries). Veronafiere created the Vinitaly World Tour http://www.vinitalytour.com in 1998 to develop an international platform for the promotion of companies in the Italian wine and food sectors. The latest development saw Vinitaly aiming at increasing Italian wine sales in China as it reinforced its partnership with the Hong Kong Trade Development Council (HKTDC), which organizes Asia's leading wine fair Hong Kong International Wine & Spirits Fair.