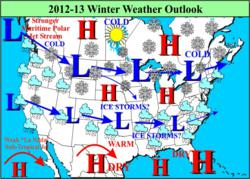 The heavy snowfalls will result from violent collisions between the subzero cold and copious amounts of moisture from the North Pacific regions
Coeur d'Alene, ID (PRWEB) November 13, 2012
Harris-Mann Climatology's annual winter outlook predicts snowfall totals ranging from 20% to 40% above normal from Interstate 80 northward into south-central Canada. Forecasters also see a good chance of several major blizzards near the full moon or new moon lunar cycles, a period when extreme tidal forces and stronger upper-level jet streams prevail.
"El Nino has dissipated and sea-surface temperatures in the Pacific Ocean are now cooler in the 'La Nada' range, the event between the warmer 'El Nino' and the cooler 'La Nina,' which often leads to increased winter snowfall in the northern areas," says Meteorologist Randy Mann.
According to Harris-Mann Climatologist Cliff Harris, "Frigid Arctic air will frequently push southward this winter through Canada into the northern U.S. The heavy snowfalls will result from violent collisions between the subzero cold and copious amounts of moisture from the North Pacific regions as well as the Gulf of Mexico. We've already seen record cold temperatures in early November in north-central Alaska to -40 degrees following the snowiest winter season in 50 years in 2011-12."
Harris-Mann forecasters are currently watching a strengthening Maritime Polar Jet Stream aloft that stretches from the Sea of Japan and the Gulf of Alaska southeastward into the northern U.S. and southern Canada towards the Great Lakes region and then points east and south. Some of this moisture is also expected to dip southward into Northern and Central California. However, Southern California and the Desert Southwest are expected to remain drier than normal.
Despite most of the moisture staying to the north this winter, Harris-Mann Climatology does predict some periods of increased precipitation across portions of the dusty central and southern U.S. Great Plains this winter, but do not see an abrupt end to the worst drought since the infamous Dust Bowl Days of the 1930s. This dry scenario may also lead to even higher food prices in 2013.
"We expect to see an icestorm or two in the Deep South, plus a major freeze in early 2013 that may damage citrus and vegetable crops once again like recent winters in Florida, Texas, Arizona and Southern California. Even northern Mexico could see killer freezes in early January," says Harris.
Harris-Mann Climatology also predicts at least two or three additional Nor'Easters pushing up the East Coast during the upcoming winter season. But, total precipitation in that area may actually be less than normal overall despite a wet start due to 'mega storm' Hurricane Sandy and an early November Nor'Easter.
Around the globe, there have been seen a series of cold and snowy winters in parts of northern Europe and Asia. Last year, rare snows closed schools in Rome and froze canals in Venice, Italy. Harris-Mann Climatology forecasts that much of Europe and Asia may see similar snowy conditions again during the upcoming winter season.
Harris says, "many of these forecasts are based upon changes in sea-surface temperatures, solar activity and lunar cycles. If a new El Nino were to form within the next few months, as some computer models predict, then long-term forecasts may have to be updated. Stay tuned."
Detailed monthly snowfall forecasts for most U.S. and Canadian cities, plus outlooks for the following 12 months for some major world cities are available at http://www.LongRangeWeather.com.