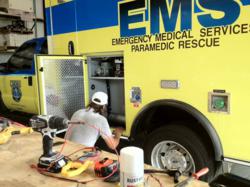 "We can turn the truck off, save fuel and contribute to a better environment." James Shamard, Chief of Staff, Austin-Travis County EMS
Austin, Texas (PRWEB) November 12, 2012
Energy Xtreme, the market leader in mobile power idle reduction systems has installed their award-winning Independence Package® into an Austin EMS vehicle. The Independence Package will keep the air conditioner, heater, refrigerator and radios running, without the vehicle's engine on.
Ambulances require almost constant power. They need power to operate onboard equipment and provide a controlled-temperature cabin environment for life-saving medicines and patient care. To provide this power, ambulance operators have to idle the vehicle engines for extended periods of time. This includes any time the vehicles are not parked and plugged into their stations, such as on-scene and after delivery of patients to hospital emergency rooms. With the Independence Package, ambulance's can power there on-board equipment - without idling, reduce operating costs and provide a superior level of care to patients.
"We've been really impressed with the results." states Scott Lindsley, District Commander-Facility/Fleet with Austin-Travis County Emergency Medical Service.
Energy Xtreme's mobile power idle reduction systems are a smart power management device that provides power, without engine engagement, to vehicles with demanding electrical needs. The system allows a vehicle's auxiliary electrical systems – including, but not limited to, emergency warning lights, onboard computer equipment and digital video recording equipment - to operate without having to idle the vehicle's engine. The system automatically recharges while the vehicle is being driven. It saves fuel by increasing the vehicles MPG and reduces emissions by eliminating the need to idle. It also extends the life of the vehicle by mitigating engine wear and tear.
In Austin alone, Energy Xtreme's cleantech mobile electric power idle reduction solution is installed in 33 of the City's Public Works trucks and over 600 Austin Police Department (APD) vehicles with additional units retrofitted on Austin Energy and Water Utility Department trucks.
"Downloading an entire shifts worth of video is hard on our vehicles and our fuel budget" states Mark Boyds, Technical Services Manager/Field Operations at City of Austin, Austin Police Department. "These mobile power systems reduce our dead battery changes and allow the officers to use their equipment without having the engine running, it gives them a constant source of power."
The mobile electric power idle reduction systems helps the City of Austin become less dependent on oil, reduce taxpayer costs and decrease the City's production and contribution of vehicle emissions.
As a U.S. leader, Austin has embraced the opportunity to help define and model the role of a city committed to climate action and sustainability. The Office of Sustainability's Climate Program works to make Austin the leading city in the nation in the fight against climate change.
###
Energy Xtreme, headquartered in Austin TX., is a mobile electric power company focused on developing intelligent power management systems with idle reduction capabilities. Named by Forbes as one of the most promising companies of 2012, we are dedicated to empowering fleet management and driving cost efficiency. Our award winning Independence Package® line of products provide unmatched mobile electric power for a vehicle's electrical needs, including lights, cameras, computers, power tools and hydraulic systems, without engaging the vehicle's engine. Our products have proven to help fleets significantly lower their fuel and maintenance costs while reducing emissions. Energy Xtreme's future-focused solutions are ideal for fleets in law enforcement, military, transportation, public works, telecom, utilities, oil and gas and work truck centric organizations. Some products described are made by Xtreme Power Systems, LLC.