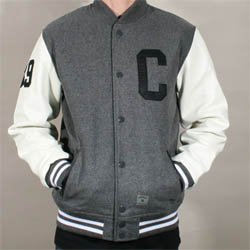 London, UK (PRWEB UK) 19 November 2012
This Autumn/Winter 2012/13 season, online fashion retailers Glass Boutique are proud to introduce some new brands to their dynamic range of men fashions and welcome back a favourite into the designer fold.
Glass Boutique are an independent purveyor of both men and women's designer fashions, presenting forward-thinking labels that creatively express high quality, original concepts with a cutting-edge blend of vintage reverence and up-to-the-minute trends. Working alongside their brands; Glass Boutique can bring unique fashion to their loyal and highly fashion-aware audience through their online store.
New additions to their broad range of men's designer fashions include Danish brand Anerkjendt with their kooky functional fashions and on-trend preppy styles that certainly grab the attention. Fellow great Danes, Rascals, reflect the revolutionary fashion movement currently seen in the capital city of Copenhagen, and their urban street wear including hooded sweats and alternative logo tees are already collecting a large fan base.
In men's designer accessories, Glass Boutique have added items from the Native American-inspired Pendleton, such as their Jacquard or Chief Joseph robes, alongside the Mediterranee deck shoes or wallets and bags of Veja and the cool comfort of Burtonwode boxer style underwear in fresh pastel colours and distinct patterns, like their Einstein print. Plus, you can find the latest range of classic canvas bags from Herschel Bags with such modes as their Little America Bag backpack, Quarry bag, the supreme simplicity of the Heritage Post or Settlement Bag and the Heritage Harvest tote bag.
Glass Boutique also welcomes back with open arms the Michigan, USA-born Carhartt that encapsulate the very definition of functional fashions. The devoted homage to classic styles can be felt throughout their collections and their latest range offers that effortless cool that we've come to expect from this established label. With ready-made outfits within the line; their balance of jumpers, chinos and jackets sit in perfect harmony. These include the Anglistic Sweater, Chase Sweat or Rascals Sweater, which teams naturally with their long-sleeve Dodgers T-Shirt or alternatively Tracy and Bally shirts, on top of cotton-blend slim-fit chinos and under the Anchorage Parka.
These men's fashion labels are all additions that work with ease alongside a diverse range of hand-picked progressive labels by Glass Boutique, such as Penfield, Libertine-Libertine, Norse Projects, YMC (You Must Create) and Universal Works, plus the progressive footwear brands in the Glass Boutique family of Clae and Pointer. They join a choice of brands available through the online store that perfectly highlight the current trend for functional fashions in designer menswear this Autumn/Winter 2012/13.