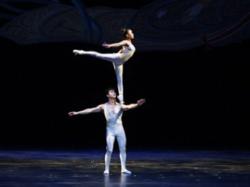 Santa Fe, NM (PRWEB) November 10, 2012
The Golden Dragon Acrobats represent the best of a time-honored tradition that began more than 25 centuries ago. The Golden Dragons are recognized throughout the United States and abroad as the premiere Chinese acrobatic touring company of today. The group is set to perform in Santa Fe, NM in December 2012 at The Lensic, Santa Fe's Performing Arts Center, on the 20th, 21st, and twice on the 22nd. This event appears on the SantaFe.com event calendar.
Golden Dragon Acrobats present, "Cirque Ziva," a new production making its premiere in Santa Fe-- the first city in a six-month tour.
Cirque Zíva was created in 2011 for a 10-week engagement at Asbury Park, N.J.'s boardwalk, the first ever summer run held at the venue in its more than 80-year history. An instant success in Asbury Park earning critical acclaim and packed houses, Cirque Zíva is a fast-paced, technically innovative and beautifully presented new show
Ticket Info:
Purchase Tickets Online or by phone at 505-988-1234
Admission: $20-$35
Member and Student Discounts Available
About The Lensic:
The Lensic Performing Arts Center opened as a nonprofit in 2001 following the restoration of the Lensic Theater, a cornerstone of downtown Santa Fe since 1931.
The Lensic:

Serves as a national model for a sustainable arts center—with its focus on performance, education and community programs.
Presents over 200 eclectic performances year-round, at affordable prices, delivering outstanding local, national and international talent.
Enriches public education by bringing more than 10,000 school children to the theater annually to see free performances of music, storytelling and dance.
Subsidizes local arts organizations, like the Santa Fe Concert Association, Santa Fe Symphony and Santa Fe Pro Musica by covering half of the rental fee for each group that uses the theater.
Offers its facilities to local nonprofits for free, or at a nominal cost, helping more than 160 organizations raise $1.7 million over 10 years.
Delivers best-in-class technical support capable of serving world-class organizations from traveling Broadway shows to the Moscow Ballet.
Sponsors a technical internship and scholarship program to train Northern New Mexico high school students in theatrical arts.
Serves as a home to the nonprofit Tickets Santa Fe, a community box office serving more than 35 organizations and venues.
About SantaFe.com:
SantaFe.com provides locals and visitors to Santa Fe alike the most current interactive platform for events, music, arts, business, dining and lifestyle. SantaFe.com is a division of Hutton Broadcasting, located at 2502 C. Camino Entrada, Santa Fe, NM 87507
Contact Information:
Scott Hutton
SantaFe.com / Hutton Broadcasting
http://www.santafe.com
(505) 471-1067 (Media inquiries only, please)