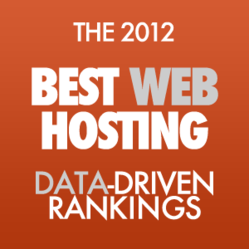 (PRWEB) November 13, 2012
GoDaddy and Bluehost took the top spots in the official 2012 Best Web Hosting Rankings published this week by Foerster Digital. The rankings are among the most comprehensive and data-driven rankings available and are based on 19 ranking factors such as number of domains registered, average user ratings, Twitter and Facebook followings, and price.
The rankings are a project of Foerster Digital and are published on http://www.best-web-hosting.com.
CEO John Foerster says the rankings are an important step toward making sense for consumers of the rapidly growing and increasingly complex hosting industry.
"We felt there was a real need for this," say Foerster Digital CEO John Foerster. "There are no existing hosting reviews sites or overall rankings of this quality for the hosting industry."
The rankings are based on 19 objective ranking factors designed to measure popularity, growth, and overall user experience. All ranking factors are averaged to achieve a single ranking score for each company.
The 2012 Rankings cover 26 of the largest and best-known hosting companies. GoDaddy tops the ranking list in the number one spot, with Bluehost, Hostgator, Siteground, and iPage rounding out the top five. Although Bluehost finished second in the rankings, it was chosen as the overall Editor's Pick.
"We think consumers would be well served with any of the top five companies," Foerster said.
The 2012 Best Web Hosting Rankings also differ from past studies on the basis of transparency.
"We made an effort to make the rankings as transparent as possible," added Foerster. "We've provided links to the data, a detailed description of our methodology, and a discussion of the limitations. Anyone can see and judge the basis of the rankings."
Foerster says that the company will update the rankings each year, and hopes to improve next year's rankings through use of direct surveys to obtain data that's not otherwise publicly available.