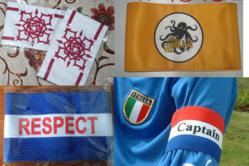 We help customers to promote their brand, products and services.
(PRWEB) November 11, 2012
Recently, Custom-armbands.com, a leading custom armband manufacturer, has launched a custom armbands promotion from Nov. 8 to Dec.8, 2012. All the online customers for custom armbands can get a discount when placing an order, up to 30% off.
"Christmas is around the corner, and many companies will use custom armbands to promote their businesses. We offer all customers with quality custom armbands at wholesale prices, and help them to grab the eyesights of customers to obtain success," said, Wendy, CEO of Custom-armbands.com.
Custom-armbands.com has obtained their authority and respect in the industry for its high-quality custom armbands. They look elegant when paired with any other outfit, and extensively used for sporting events, religious activities, company promotion, animation products, firefighting, medical services, charitable fund-raising activities, TV/Film Decoration, and covers of mobile phones or other electronic products.
Custom armband, like sport armband or captain armband, printed with customer's logo, name, web address, phone number or custom design, has been very popular these years, and widely used by small companies and huge corporations to help promote their brand, products and services.
Wendy added, "If you are looking for something with innovation to promote your business, custom armband may be a good choice. Many customers use a custom armband as a trade show giveaway, promotional mailing to promote their companies, products, messages or brands. We are here to provide one-stop shopping service, including designing your own armbands."
About Custom-armbands.com
Custom-armbands.com is a professional armband manufacturer, and produce all kinds of armbands according to customer requirements. The company has 4,000 square meter modern standard production workshop, equipped with a complete set of production lines. All production processes are completed in the company, from the weaving, design, plate making, printing, steam cleaning, sewing machines, packaging, and logistics. Moreover, all the process is standardized through production guidelines and quality control.
More information can be found at: http://www.custom-armbands.com/