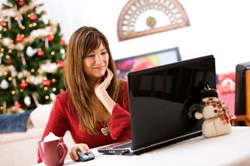 Miami, FL (PRWEB) November 11, 2012
TheBeautyPlace.com has put together a list of items ready for gift wrapping at every price level. Salon quality products in the Holiday Gift Guide range from hair care, skin care and beauty tools.
For under $10, the Travalo Refillable Perfume Spray allows for safe storing of fragrances in a pocket, purse, or travel bag. The travel spray's are available in several colors from Classic Pink, Hot Pink, Gold, Silver, Black, and Red. The various colors allow for telling fragrances apart. "The Travalo is an inexpensive and very interesting gift because not all of our favorite fragrances are sold with purse sprays. You have to buy that separately. At under $9, this item is perfect for when you don't want to spend too much on a gift and want the receiver to think you spent time looking for a special beauty essential," stated Rebecca, lead beauty specialist at TheBeautyPlace.com.
For under $20, Agadir Argan Oil Hair Treatment is a hair serum for providing superior moisture and conditioning to fine, curly, thick, and coarse hair types. Argan is a rare oil with antioxidants, vitamins and moisturizers, and is popularly used before styling hair with curling wands and ceramic stylers. The hair serum is ideal for preventing damage done to hair because of excessive heat styling. "Clients love this hair treatment. Apply this hair serum after washing hair to prevent frizz and wake up with no poofy hair. It also saves curly heads and incredible amount of time styling their hair making it more manageable and curls more defined," stated Rebecca.
For under $100, Bio Ionic hair straighteners make smoothing hair easy and fast. A popular best-selling flat iron is the OnePass. It takes one pass to smooth each section of hair completely and its ceramic plates feature ionic technology which provide hair with frizz protection and shine. "My stylist used the Bio Ionic straightener One Pass, and I was immediately ecstatic about it. Never had I seen a ceramic styler leave my tough hair so smooth in one pass. I found it at TheBeautyPlace.com and my husband loved the price, so I bought it!" stated Anna, "and I got one to give to my darling niece this Christmas!"
TheBeautyPlace.com is a leading online company of "top brands at affordable prices." From skin care to hair care and everything beauty, TheBeautyPlace.com strives to offer clients and prospective clients excellent customer service and fast shipping of beauty products right to their door.
Follow TheBeautyPlace.com:
On Pinterest: pinterest.com/thebeautyplace/
On Twitter: @TheBeautyPlace
On Facebook: Facebook.com/pages/TheBeautyPlacecom/125435188536?ref=ts
TheBeautyPlace.com Blog: blog.thebeautyplace.com
Jennifer Ramirez
TheBeautyPlace.com
877-392-8827