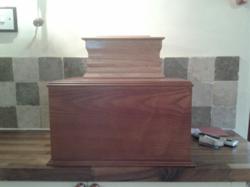 people are currently paying high prices for cremation services that often do not meet their expectations
Carlisle, Cumbria (PRWEB UK) 12 November 2012
The APPCC wants owners to realise that the equine and pet cremation industry is completely unregulated at present. DEFRA licensing regulations  cover the disposal of dead animals only and do not protect the consumer as to how cremation services are carried out.
Kevin Spurgeon, director of the APPCC, said: "I would urge horse owners to ensure that they check out any cremation service being offered to them as many equine cremation firms are actually slaughter men, knacker men or rendering services that may not even have their own cremator. "
He was speaking after Philip "John" Cooper, 70, of Springwood, High Street, West Lydbrook, Somerton, Somerset, and previously trading as John Cooper Livestock Services, was dealt with for a second time at Gloucester Crown Court (case number S20120196) for fraud. All the charges related to cremations he undertook to carry out for clients of Bushy Equine vets.
In February 2011 Cooper pleaded guilty to five charges of fraud and four of failing to keep records of carcass transport and collection. He was fined £17,500 and ordered to pay almost £12,000 in costs. Coverage of that case, in publications including Horse & Hound, led to more horse owners coming forward who had used Cooper's services as clients of Bushy Equine.
On Friday November 9, Cooper was sentenced after pleading guilty to a further four charges of fraud and agreeing to 22 other cases being taken into consideration. Cooper, now retired, was running John Cooper Livestock Services in Gloucester at the time of the offences. Bushy Equine has said it is 'devastated' that its clients were deceived.
Mr Spurgeon said: "The vets involved need to ask themselves whether they failed to protect their clients by not knowing exactly where Cooper was taking the horses they referred to him.  It deeply saddens me that Mr Cooper was given every opportunity to admit these offences during the first investigation but failed to do so and Trading Standards has uncovered further acts of fraud against vulnerable and grief stricken horse owners who trusted their vet to arrange a dignified individual cremation service for their much loved companion animals.
"Vets should ensure they have full written working practices from their contractors and carry out regular site inspections. Equine cremation is currently completely unregulated. Licensing only applies to animal disposal which leaves the handling of the horse, the way the cremation is carried out and the way the ashes are collected down to the individual equine crematorium."
Members of the APPCC adhere to a code of conduct and believe that until all UK equine crematoria and the veterinary profession agree to sell cremation services according to standard descriptions bereaved owners will continue to be misled.
Mr Spurgeon added: "Quite simply, people are currently paying high prices for cremation services that often do not meet their expectations. Cooper, who didn't even have his own cremation facilities, has once again brought the pet cremation industry into disrepute.
"I hope the horse owners get some peace of mind from knowing that justice has now been served. If more horse owners suspect they may have used Cooper for an individual horse cremation service and are concerned about the ashes they received, they should contact Gloucestershire Trading Standards as at sentencing the judge made clear that should further offences come to light that he would ask for any resultant case to be put before him again. The APPCC has put together a "best practice" guide for equine cremation services which can be obtained by calling its national helpline on 01252 844478.
The APPCC advises owners to take charge of arranging an after death care service themselves so they can properly research how their pet will be collected, transported, handled and cremated to ensure they get the service for which they are paying.
These are the questions it advises owners to ask their vet or equine cremation service:

How will my horse be transported?
Does the equine cremation service have their own cremator?
If not, where will my horse be taken and will it be a genuine crematorium?
How will my horse be stored?
How will they be identified?
Will my horse be the only animal in the chamber during the cremation process and will they be in their entirety?
Will the equine crematorium certify that my horse was on its own during the cremation, was respectfully handled and all visible remains were collected.
Will I receive all of my horse's ashes and will they be only from my horse?