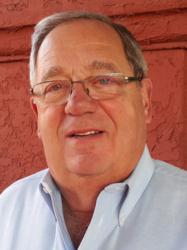 By overcoming the limitations...that have been in the norm for decades in the NDT industry, AcousticEye has the opportunity to deliver a solution that not only makes sense technically, but also offers a strong business case.
Santa Clara, CA (PRWEB) November 13, 2012
AcousticEye Ltd., a pioneer in non-invasive tube inspection for the global heat exchanger and boiler NDT (non-destructive testing) markets, today announced that Mr. Howard Houserman has joined the Company's Advisory Board.
A prominent figure in the NDT industry with extensive experience, particularly in the nuclear power generation field, Mr. Houserman was past President, CEO and Chairman of Zetec Inc, a world- leading vendor of Eddy Current and Ultrasonic Testing. Prior to his long tenure at Zetec, which also included management of field operations, Mr. Houserman worked at Westinghouse as a Lead Engineer for steam generator inspections. Active in business development and new product commercialization throughout his career spanning over 30 years in NDT, Mr. Houserman has a proven track record of executing successful entrepreneurial strategies resulting in accelerated company growth and acquisition.
Commenting on the appointment, Mr. Houserman said: "By overcoming the limitations of conventional, invasive inspection techniques that have been the norm for decades in the NDT industry, AcousticEye has the opportunity to deliver a solution that not only makes sense technically, but also offers a strong business case. I look forward to using my experience and skills to help ensure AcousticEye delivers a win-win for both the service provider and the end customer with this new approach."
Mr. Yoav Harel, Chief Executive Officer of AcousticEye Ltd., said: "Having such a well-known and knowledgeable industry leader as Howie join our team is an honor and a major endorsement for AcousticEye. As we continue with our mission to deliver breakthrough inspection technology to the market, providing a solution that is not only highly effective, but also practical for the hands-on business of NDT is essential for success. As an expert advisor, Howie will have an instrumental role in ensuring we do just that."
About AcousticEye
AcousticEye Ltd. is a pioneer in non-invasive tube inspection for the global heat exchanger and boiler NDT (non-destructive testing) markets. With breakthrough capabilities for inspecting today's most challenging tube sizes and configurations up to 4", it is possible to inspect boilers, Fin Fans and other heat exchangers in any shape or material. Ultra-fast, accurate testing can be performed at a fraction of typical inspection cycle times and without extra inventories of consumable probes and standards. Utilizing Acoustic Pulse Reflectometry (APR) technology, AcousticEye's Dolphin G3™ is a very advanced yet easy-to-use tool. With its simple operation, automated analysis and report generation, there are minimal training requirements and far less dependency on operator expertise. http://www.acousticeye.com