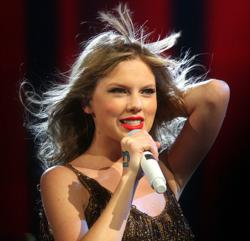 New York, NY (PRWEB) November 11, 2012
Taylor Swift, the sweet and likable 22-year old singer and songwriter, has been receiving great reviews for her latest album where songs like "Never Ever Getting Back Together" and more are being featured. Her album "Red" has already sold 1.2 million copies in the United States alone and she will be going on a 6 month long tour in 2013.
The tour will commence in Omaha, Nebraska and will go to roughly 29 cities in 45 states in the US and include visits to Canada as well. All of her fans are expecting a really great show but this is not all there is to the "Red" concert tour. The opening act for Swift's concert tour will be Ed Sheeran from the UK who is already a famous folk and acoustic legend of his generation.
Ed Sheeran is only 21 years old has already accomplished great things during his lifetime and his name is fast becoming a household name in the USA and UK. His big breakthrough came in 2011 when his first single "The A Team" was at the #3 slot on the UK Singles Chart. His first album by the same name was a certified 4X Platinum in the UK and he won two BRIT Awards in 2012. Ed collaborated with Taylor Swift on a song for her "Red" album and shortly thereafter it was announced that he would be the lucky guy to provide support to Taylor during her upcoming North American Tour in 2013.
On the said tour, both Swift and Sheeran fans are expected to join forces in selling out all the concert tickets in all cities and states. In fact, according to Sheeran, this is going to be a memorable tour for him because this is the first time he will be touring with a young singer who is also a hit maker and record breaker like Swift.
Also according to Sheeran, so far this is his biggest collaboration to date so he is feeling a bit of pressure. To this Swift has nothing better to say but the best of luck and she believes in Sheeran's pure talent so all of the fans can expect a really exciting and mind-blowing performance from the two artists for sure.
Starting November 11th, presale tickets for the "Red Tour" will be available for purchase by Taylor Swift fan club members and AMEX card holders. Chances are the tickets will sell out fast because these two artists are really remarkable in their own rights. Before purchasing the tickets, make sure to first know the tour schedule in your area since many venues are hosting Taylor and Ed for more than one night. Don't delay in purchasing your tickets -- you are sure to be amazed with this once in a lifetime concert tour featuring Taylor Swift and Ed Sheeran being together on stage.
Taylor Swift "Red Tour" dates: (note: not all venues will be onsale until a later date)
March 13 & 14 Omaha, Nebraska
March 18 & 19 St. Louis, Missouri
March 22 Charlotte, North Carolina
March 23 Columbia, South Carolina
March 27 & 28 & 29 Newark, New Jersey
April 10 Miami, Florida
April 11 & 12 Orlando, Florida
April 18 & 19 Atlanta, Georgia
April 20 Tampa, Florida
April 25 Cleveland, Ohio
April 26 Indianapolis, Indiana
April 27 Lexington, Kentucky
May 4 Detroit, Michigan
May 7 Louisville, Kentucky
May 8 Columbus, Ohio
May 11 & 12 Washington, DC
May 16 Houston, Texas
May 21 Austin, Texas
May 22 San Antonio, Texas
May 25 Dallas, Texas
May 28 & 29 Glendale, Arizona
June 1 Salt Lake City, Utah
June 2 Denver, Colorado
June 15 Toronto, Ontario
June 22 Winnipeg, Manitoba
June 29 Vancouver, British Columbia
July 6 Pittsburgh, Pennsylvania
July 20 Philadelphia, Pennsylvania
July 27 Foxborough, Massachusetts
August 1 Des Moines, Iowa
August 2 & 3 Kansas City, Missouri
August 6 Wichita, Kansas
August 7 Tulsa, Oklahoma
August 10 Chicago, Illinois
August 15 San Diego, California
August 19 & 20 Los Angeles, California
August 27 Sacramento, California
August 30 Portland, Oregon
August 31 Tacoma, Washington
September 6 Fargo, North Dakota
September 7 & 8 St. Paul, Minnesota
September 12 Greensboro, North Carolina
September 13 Raleigh, North Carolina
September 14 Charlottesville, Virginia
September 19, 20 & 21 Nashville, Tennessee
About CheapConcertTickets.me:
Cheap Concert Tickets delivers tickets to sold out concerts and events worldwide when no one else can, and they do so at discounted prices. As a member of TicketNetworkDirect, they can guarantee delivery of Taylor Swift tickets and Justin Bieber tickets along with tickets for NASCAR, NBA, NFL, and NHL games. With CheapConcertTickets.me customer service is a priority, for more information email support(at)cheapconcerttickets(dot)me.