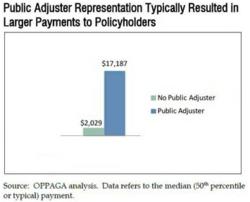 Using a Public Adjuster is a win / win situation for the policyholder. Contact United States Adjusters now for a FREE claim evaluation. 1-800-872-0201
New York, NY, New Jersey, Long Island, New York, NJ (PRWEB) November 13, 2012
A recent study has shown **(OPPAGA REPORT) the difference in payments in a catastrophic event like Hurricane Sandy were larger for policyholders that had representation of a public adjuster, the study showed that payments were 747% higher due to Public Adjuster representation, the results are staggering and make hiring a Public Adjuster an easy decision.
Most people do not have any idea what a "Public Adjuster" is or does. Public Insurance Adjusters are considered the insurance company's best kept secret and for good reason. There is a inherent conflict of interest when the insurance company sends out their own adjuster to evaluate and put a value on a claim, that is because the fiduciary responsibility of the insurance company adjuster is to the insurance company. For a small percentage of the recovery the homeowner or business owner should hire their own adjuster, a Public Adjuster. That is because the responsibility of a Public Adjuster is to the policyholder, which as a result the payment is statistically much greater (747%). It's been said that not using a Public Adjuster is like going to court without an attorney.
A Public Adjusters the main focus is to obtain the the best insurance settlement possible, in the shortest amount of time. United States Adjusters are committed to helping those who have suffered the greatest loss and to get them back in their homes or businesses quickly.
With United States Adjusters being one of the leading Public Adjusting firms in the Nation there is a great demand for their services. If unable to hire United States Adjusters several things to be aware of:
1) Is the Public Adjusting Firm a member of NAPIA - http://www.napia.com (National Association of Public Insurance Adjusters). If the Public Adjusters are not members, keep looking. NAPIA's Public Adjusters are held to the highest standards and ethics in the industry.
2) Make sure the adjuster is well versed with flood and hurricane policies and has the knowledge about what is covered and what is not. Most run of the mill Public Adjusters have never worked a flood loss, let alone a hurricane loss like Sandy, especially in New York or New Jersey. United States Adjusters are considered experts in both Hurricane and Flood losses having adjusted thousands of flood and hurricane losses over the years. United States Adjusters are part of a National Catastrophic Adjusting team that travels all over the Country assisting the policyholder with Commercial, Residential and Condominium insurance claims.
3) Make sure to hire a company that is accredited with the Better Business Bureau or has better than a B rating. United States Adjusters is accredited and holds a stellar (A Rating). United States Adjusters prides itself on customer service.
In order to obtain the services of a Public Adjuster at United States Adjusters, contact United States Adjusters directly at 1-800-872-0201
website: http://www.unitedstatesadjusters.com
Email: info(at)usadjusters(dot)com
** OPPAGA REPORT : http://www.unitedstatesadjusters.com/OPPAGA.pdf