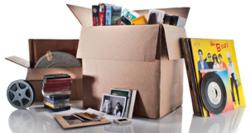 Losing a families memories in the form of destroyed photos, videos or slides is a preventable disaster...
Tucson, AZ (PRWEB) November 14, 2012
Great news for people who wish to preserve their families memories by digitizing old slides, VHS or DVD's, as online media transfer company, AZCopyCats.com will be offering free media preservation consultations for a limited time. People looking to protect their precious media from disasters, can contact the site to speak with a media expert to learn more about how digitizing can help.
The company has on staff a professional film editor, experienced with the various media types who can help ensure clients get the best possible quality during their digitization.
The media experts at AZCopyCats.com can provide:

The highest quality transfers
Real human review from experienced professionals
Additional copies (makes great holiday gifts)
"The tragedy is when a families entire history recorded on aging media formats is lost. Some memories are irreplaceable and ought be protected," stated Tom M. Pryor, media expert with the company.
People considering digitization as a means of protecting their media are in good company as, the U.S. government national archives media digitization program has been working to preserve precious documents since 2007.
About AZCopyCats.com:
People looking for more quality, real concern, and gentle handling of their precious media that a software solution simply doesn't offer. For help preserve wedding memories, births, graduations, military feats and other valued occasions, or to take advantage of the special offer, visit: http://www.azcopycats.com