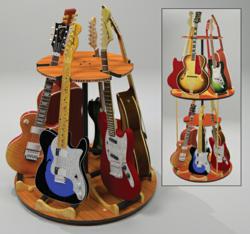 "The (multiple guitar stand) directions are perfect along with the packing. The workmanship and quality are masterful. I am proud to display my guitars in the unit. I look forward to the other half (top tier).
Elkins Park, PA (PRWEB) November 13, 2012
Guitarists and collectors who want their prized guitars to be properly protected, yet proudly displayed and easily accessible have historically needed lots of wall or floor space to achieve this goal. The new Carousel™ Deluxe Multi-Guitar Stand solves this problem by enabling guitar enthusiasts to store up to 12 guitars on one beautiful display/storage rack that occupies only three feet of space.
GuitarStorage.com, a subsidiary of A&S Crafted Products, announces the release of its new Carousel Deluxe Multi-Guitar Stand. The Carousel Stand's solid construction and ergonomic design provide superior protection for guitars so they can be displayed and stored out of their cases in an attractive and organized way. The Carousel Stand features a rotating base which allows easy access to all the guitars while displaying them from all angles. It features nitrocellose-safe wool felt at all contact points and soft supports for the guitar bodies to provide ultimate cushioning and protection for a wide variety of guitars.
Founded in 2003, A&S Crafted Products manufactures high quality wood storage solutions for guitarists, guitar collectors, and music teachers who need to store stringed instruments. Karen Schwartz, the company's Product Development Manager, states "The Carousel Deluxe Multi-Guitar Stand was developed as the ideal solution for people who need to store many guitars in a very limited space, yet who want a sturdy, decorative, and furniture-quality rack on which to store them. Using our many years of experience and our intimate knowledge of our customers' needs, we developed a stand that stores six guitars in only three feet of floor space and rotates easily to give quick access and a clear view of any guitar in a collection. For more than six guitars, our customers can purchase the optional Expansion Tier which fits over the base unit, doubling the capacity to 12 guitars while requiring no additional floor space. Because it does not need to be placed against a wall like linear guitar racks, the Carousel Rack functions and looks great anywhere in a room, including a corner, or even in the middle of an open area. With nothing like it available on the market, we are extremely proud of our new, innovative design."
The Carousel Deluxe Multi-Guitar Stand features ribbon-stripe sapele mahogany and herringbone wood inlay as well as solid maple support cradles with cushioned supports and soft wool felt at all contact points.
The bottom tier (base unit) of the Carousel Deluxe Multi-Guitar Stand is 36" wide X 36" deep X 31 1/2" high and holds up to six guitars. The optional Expansion Tier (which can hold six more guitars) is 36" wide X 36" deep and adds 46" to the total stand height. The Expansion Tier can be purchase along with the base unit, or it can be purchased at a later date as the customer's guitar collection expands.
The MSRP for the bottom tier (base unit) of the Carousel Deluxe Multi-Guitar Stand is $640.00, the Street Price is around $589.00 and is currently shipping. The MSRP for the Optional Expansion Tier (to double the capacity) is $569.00, the Street Price is around $529.00.
For more information or dealer inquiries, contact info@guitarstorage.com or see the company's website at http://www.guitarstorage.com.