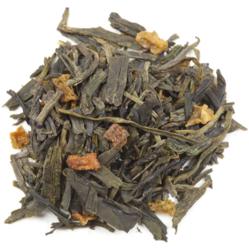 Clovis, CA (PRWEB) November 13, 2012
Compassion Tea Company is excited to announce their exclusive blend of green tea, Compassion Apple Crisp. Just in time for the holidays, this green tea, flavored with dried apples and cinnamon stick, is now available at Compassion Tea's online store and joins Compassion Spice as the second seasonal signature tea exclusive to Compassion Tea Company.
Compassion Apple Crisp was inspired by that most American of all desserts, apple pie. Compassion Tea's blender, Chris Faherty, began working on the blend after fellow Compassion Tea founder Anne Kennedy urged her to replicate the tastes of warm apple desserts. All eight of the Compassion Tea directors tasted the tea at the last board meeting and declared it delicious and ready for sale. The tea is the perfect compliment to any holiday meal.
Compassion Tea is also currently offering their full line of holiday gifts, which include the Holiday Four Tea Gift Box, the Holiday Gift Pouch, and the Holiday Tea Caddy. The Holiday Four Tea Gift Box features four teas in reusable tins nestled in an attractive sea-foam box along with a silver teaspoon for measuring the teas. The Holiday Gift Pouch features Monk's Blend and Bourbon Street Vanilla, two of our most popular teas, in round reusable tins and presented in a red satin pouch. The Holiday Tea Caddy contains 10 double infusion pyramid tea bags in the flavor of your choice.
What makes this tea and these gifts unique is the purpose behind their sale. 100% of Compassion Tea's after-tax profits are donated to its parent organization, CompassioNow. CompassioNow is a non-profit organization that partners with clinics in Zambia, Kenya, Tanzania, and South Africa to provide medical care in places where such care is scarce. CompassioNow provides pharmaceuticals, medical supplies, and funding for projects and staffing at these clinics. Through its partnership with CompassioNow and through the sale of its teas and memberships, Compassion Tea Company hopes to save lives and share the stories of people in rural parts of Africa.
About Compassion Tea Company
Compassion Tea Company is known for its excellent products and services and is widely recognized for donating 100% of its after-tax profits to a charity that brings health and healing to individuals and communities in rural Africa. The relationship between Compassion Tea Company and its parent organization, CompassioNow, is an innovative linkage between premium products and funding for a great cause.