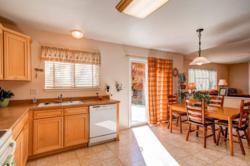 "One of the biggest problems with buying short sales or bank owned properties is they are always sold as is, which can lead to costly maintenance issues and/or repairs down the road."
Littleton, Colorado (PRWEB) November 15, 2012
Julie Montgomery, RE/MAX Masters, Inc., one of the top-producing realtors in Denver and Littleton, Colorado, advises buyers to avoid short sales, regardless of how good they look on paper.
On the surface, short sales and bank owned homes look like great deals. In most cases, however, they be can very risky, very expensive investments, especially for young buyers.
"Short sales (preforeclosure properties) can be great investments if the buyer has a lot of extra cash in the bank to make the repairs necessary with most preforeclosure or bank owned properties," said Montgomery. "Many people don't realize these homes are sold in "as is" condition, so if there are problems, it's the buyer's responsibility to fix them.
Montgomery lists the top reasons why short sales can be very risky investments, especially for young buyers.
1) Sellers Paid Too Much.
If a home sold for $400,000 a few years ago and is now for sale at $300,000, that doesn't mean the buyer is picking up $100,000 of equity for free. It means the seller paid too much in a rising market and now the market has fallen. It means the seller has no equity.
2) Sellers Borrowed Too Much.
Banks that were eager to lend money in appreciating markets sometimes allowed borrowers to over-mortgage the home, meaning the borrower's loan balance exceeded the value of the property. Appraisals are subjective, and not all appraisers will place the same value on a home.
3) Homes Sell at Market Value.
Lenders aren't naive or unaware of the value of a home. Lenders will insist on a comparative market analysis, known as a CMA, or broker price opinion, known as a BPO. If a lender believes a better price can be obtained by taking the property back in foreclosure over a short-sale offer, the lender may hold out for a higher price. That price will be close to market value. Lenders accept short sales when the home is worth the short-sale price, which means market value.
4) Length of Time to Close.
Depending on when the Notice of Default was filed, the lender's back-log of foreclosures and how much paperwork the seller has already submitted, it could take a VERY long time to get a response on a purchase offer. If two lenders are involved, it even takes longer, and oftentimes, the transaction will not close.
5) Higher Buyer Closing Costs.
Because lenders rarely will pay for any extras like closing costs, buyers should be prepared to pay approximately 3% of the sales price out of pocket.
6) Lose Control of Transaction.
The bank has total control of the transaction. They choose who, why, when and how. Most preforeclosures take at least six months before the buyer can take possession. Bank owned properties can close more quickly, but it's nearly impossible to pint point an exact closing or possession date.
7) Most Important! You Make Money When You Buy, Not When You Sell.
Location, location, location is still the most critical factor when purchasing a home. "Buyers should focus on the best neighborhood they can afford rather than looking for the least expensive house available." She added, "it's also critical to hire a realtor (never a fee for buyers) to select an experienced agent who specializes in the areas they are considering."
For more information about avoiding short sales or for information about homes and real estate in Littleton, Colorado, and the Denver metro area, please contact Julie Montgomery at RE/MAX Masters, Inc. or visit http://www.jmontgomery.com/.