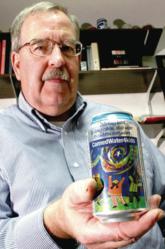 "We received a call from the Red Cross asking for help," said CannedWater4Kids (CW4K) CEO/Founder, Greg Stromberg. "Without hesitation, we did what any good human being would do. We helped."
Sussex, WI 53089 (PRWEB) November 12, 2012
CannedWater4Kids, Ball Corporation, Alcoa, Fleetmaster Express and Cargo Solution Express Trucking Company, joined forces to send a rush delivery of fresh drinking water to help in the New Jersey Disaster Relief efforts. Two truckloads, 105,600 cans of fresh purified spring water were sent to the Red Cross Distribution Center in Somerset, New Jersey.
The recent hurricane and Nor'easter was devastating to millions of people on the east coast.
Entire communities were washed away. "We received a call from the Red Cross asking for help," said CannedWater4Kids (CW4K) CEO, Greg Stromberg. "Without hesitation, we did what any good human being would do. We helped." "Coordinating and financing the water delivery was a team effort," added Stromberg. "We couldn't have done without the help of Ball Corporation, Alcoa and Fleetmaster and Cargo Solution Express. Their help and support was incredible."
About CannedWater4Kids
CannedWater4Kids is a 501c3 nonprofit charity based in Sussex, WI.
The organization's mission is to bring clean, safe water to the children of the world who are currently without. CW4K funds it's initiatives with cash donations and sales of their premium spring water product. 95 cents of every dollar collected goes to support clean water programs. Recent efforts include sending water to Japan and Haiti to aid in their Post-Earthquake Water Shortage, assisting the University of Wisconsin – Milwaukee's Engineers Without Borders in bringing water prification solutions to the highlands of Guatemala, support of a well/water tank project in Zambia, Africa, and Bio Sand Filters project in Tanzania. To learn more, visit http://www.cannedwater4kids.org
About Ball Corporation
Ball Corporation is a supplier of high quality packaging for beverage, food and household
products customers, and of aerospace and other technologies and services, primarily for the U.S. government. Ball Corporation and its subsidiaries employ more than 14,500 people worldwide and reported 2010 sales of more than $7.6 billion. For the latest Ball news and for other company information, please visit http://www.ball.com.
About Alcoa
Alcoa is the world's leading producer of primary aluminum, fabricated aluminum and alumina. In addition to inventing the modern-day aluminum industry, Alcoa innovation has been behind major milestones in the aerospace, automotive, packaging, building and construction, commercial transportation, consumer electronics and industrial markets over the past 120 years. Alcoa employs approximately 61,000 people in 31 countries across the world. More information can be found at http://www.alcoa.com.
About Fleetmaster Express
Fleetmaster Express operates over 300 trucks and 1,100 trailers and provides superior service to its customers from 14 terminals, offering over the road, local, and dedicated hauling as well as freight brokerage, warehousing and spotting services. The company is headquartered in Roanoke, Va., and has locations in Virginia, North Carolina, Ohio, Arkansas, Texas, Georgia, Indiana, New York and Wisconsin. To learn more, visit http://www.fleetmasterexpress.com.
About Cargo Solutions Express
Cargo Solution Express is a premium provider of specialized logistics services. A mid-sized, dry van truckload carrier, the company is capable of carrying almost any type of temperature sensitive product for delivery to virtually all of North America. Founded over 10 years ago, Cargo Solution Express is one of the 500 fasted growing companies in Southern California.
To learn more visit, http://www.cargosolutionexpress.com
– END –