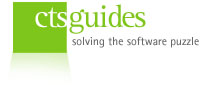 Companies should begin by building a realistic business case for new ERP software. This includes defining expected business benefits, identifying opportunities for process improvement and preparing your staff for
Rockville, MD (PRWEB) November 11, 2012
A 2012 Panorama Consulting Group report states that 63 percent of companies experienced problems in process and organizational changes during new software implementations. This is especially true in the manufacturing industry, where many ERP software vendors tout their technology as a key selling point. While keeping up with technology trends can give manufacturing firms a competitive advantage, a new report published by CTS Guides, a leading publisher of ERP software reviews, explains why technology alone isn't enough to ensure that a project is successful.
The new report, titled "Why Technology is the Least Important Factor in Your Manufacturing ERP Software Project," was written by software expert Jeff Cann, a principal consultant at Spotlight, Inc. In the report, Cann explains the problem with technology-driven ERP software projects and outlines a three-part solution for achieving a successful outcome.
"Choosing the wrong technology is a painful and expensive mistake that manufacturers don't need to make," explained Cann. "Before embarking on their software search, companies should begin by building a realistic business case for new ERP software. This includes defining expected business benefits, identifying opportunities for process improvement and preparing your staff for change."
Cann argues that, in addition to technology, process and people are vital elements of manufacturing ERP software projects. He emphasizes that 'people' may be the most undervalued aspect of a technology project, stating that, if a manufacturer's employees are not adequately prepared for changing business practices or aren't properly trained to take advantage of the new ERP software, promised benefits may not materialize. He then goes on to outline the steps for ensuring that this doesn't happen.
Manufacturing firms that are considering an ERP software purchase can click here to access Cann's full report on the CTS website. Visitors are also invited to download CTS' free Manufacturing Software Selection Kit.
ABOUT CTS GUIDES
Established in 1983 by Sheldon Needle, CTS was the first company to perform hands-on, independent evaluations of software for the middle market. Since then CTS has helped over 23,000 companies select new software and technology. Today, CTS offers software reviews, ratings, evaluation tools and expert advice that help contractors select new manufacturing software. The company's recourses are also widely used by CPAs, consultants and software resellers to assist their clients during the software selection process.
ABOUT SHELDON NEEDLE
A former CFO, consultant and software designer, Sheldon Needle has authored or co-authored more than 20 books on software selection and has contributed articles to major publications, including the Journal of Accountancy and Nation's Business. CTS was the very first company to do hands-on, independent evaluations of software for the middle market. Sheldon speaks with business owners and managers every day about construction software selection and makes personalized recommendations based on their needs and budget. He is widely known and respected throughout the business software community for his independence, integrity and software selection expertise.