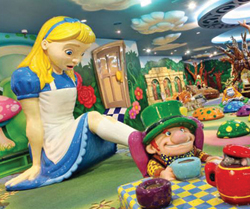 "Within the first full year of operation, we have had over one million visitors to the PLAYTIME soft play area and our monthly Kidstoria attendance has increased 30%"
Englewood, CO (PRWEB) November 12, 2012
Located in Seoul, South Korea, Lotte World is recognized as the "world's largest indoor theme park" by the Guinness Book of World Records. Two years ago, though, the amusement park was losing guest count.
Then, Lotte World discovered an underserved audience: families with young children. So, it decided to create a new amenity: the "world's largest indoor soft play area" called "Kidstoria" with PLAYTIME, the global leader in custom-designed soft playground equipment.
"Within the first full year of operation, we have had over one million visitors to the soft play area and our monthly Kidstoria attendance has increased 30%," says Choi, Weon Gi, Team Chief, Masterplanning for Lotte World. "We introduced a new ticket segment for both annual and daily sales with the installation of Kidstoria. It's been a tremendous success."
Opened in 1989, Lotte World is regarded as a world-class theme park along with Disneyland. About 6 million visitors come to Lotte World each year. With 10% of the visitors being foreigners, Lotte World is a global tourist destination as well as the most visited theme park domestically in Korea.
In 2008, the decade-old Lotte World began experiencing a business downturn and a drop in visitors. The amusement park had a 10,000-square-foot space filled with old, carnival-style games. The space was underutilized and unattended, and overall revenues and attendance were declining.
"We were missing a BIG HIT item in the original master plan," continues Choi. "We had only a small playground made of fiberglass materials in the original plan. Now, we were at a good turning point where we had to transform the Lotte World's Kids Zone into Korea's Top Kids Zone."
How did Lotte World discover the power of play?
"Our team wanted to put a landmark attraction into the new Kids Zone," reports Mr. Choi. "Luckily, we found PLAYTIME at the IAAPA Attractions Expo 2008 and went to shopping malls across the U.S. to see the success of their indoor play areas."
Custom-themed soft-sculpted foam playgrounds were perfectly suited to achieve Lotte World's vision to revitalize the Lotte World brand with a new, one-of-a-kind destination for the Korean tourism industry.
Lotte World hired PLAYTIME LLC, a Colorado-based soft play area provider to design and manufacture a unique new set of play systems.
Lotte World's Kidstoria opened in December 2010, with five custom-themed play zones inspired by the original storybook classics such as: Pinocchio, Alice in Wonderland, Aladdin, Cinderella and the Jungle Book.
The indoor play area incorporates over 60 toddler-sized, interactive sound and light, fixed and motorized custom-themed soft play elements. The play pieces are bright and shiny, soft and squishy, with realistic features and whimsical creatures. The soft playground includes an entire landscape of wall murals, facades, ceiling art and mobiles, and wall-mounted activity panels.
Kidstoria has been so successful that they expanded the indoor play park within 11 months of opening, adding a, Jack and the Beanstalk and The Three Bears indoor play areas. The expansion increased the overall size of Kidstoria to approximately 13,000 square feet, making it the largest soft foam play area in the world.
"The overwhelming response proves that families with young children need amusement outlets and that PLAYTIME's got something they really love," says Grant Walter, EVP of PLAYTIME. "Kidstoria has become a household name in Korea. It's been so rewarding and amazing to see."
PLAYTIME and Lotte World will both return to the IAAPA Attractions Expo 2012, running this week November 12-16 in Orlando, FL.
ABOUT PLAYTIME
PLAYTIME is the global provider of unique, interactive healthy play areas and playground equipment for indoor, outdoor and water play. Designed to engage children, our themed soft play areas drive traffic and enhance our customers' brands. Thousands of families EXPERIENCE PLAYTIME everyday at shopping centers, restaurants, airports, stadiums, childcare, healthcare centers, fitness centers, churches, resorts, recreation centers, water parks and museums – any place that kids play.
Visit http://www.playtime.com.