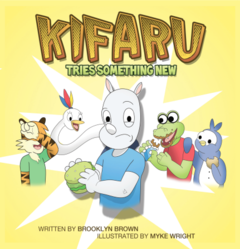 (The book) invites young children to expand their horizons and try something new.
LOS ANGELES –
(PRWEB) November 14, 2012 -- Trying new things isn't always easy, as Kifaru and his friends learn in this new illustrated children's book. Most kids bring traditional lunch food, but Lily, a vegetarian, brings something unusual to share with everyone. Will Kifaru work up the courage to have a small culinary adventure and taste something new?
When Lily first invites Kifaru to try her tofu burger and describes how it's just a burger made from soybeans, he tells her "Next time." It's so unusual he can't stop thinking about the burger and even has a nightmare about it. But when he forgets his lunch the next day, it's Lily to the rescue with an extra tofu burger. Kifaru's enthusiasm once he finally tastes the burger inspires everyone to sample it.
"Kifaru Tries Something New" invites young children to expand their horizons and try something new. The easy-flowing story works for young readers and read-aloud fun. The book's colorful, cartoonish illustrations delight the eye and tell a story all their own. The cast of animal characters shares a gentle lesson about taking a chance.
Author Brooklyn Brown earned a degree in culinary arts from Schoolcraft College in Livonia, Mich. She lives in Los Angeles and works in catering and runs a culinary website when she's not writing books for her Kifaru and Friends series. Illustrator Myke Wright, who studied graphic design and illustration at Wayne County and the College of Creative Studies, works as a freelance graphic designer and performs stand-up comedy in Los Angeles.
----------
For additional information, please visit http://www.kifaruandfriends.com.
Kifaru Tries Something New
Brooklyn Brown
Dog Ear Publishing
ISBN: 978-1-4575-1470-8 32 pages $16.95 US
Available at Ingram, Amazon.com, Barnes & Noble and fine bookstores everywhere.
About Dog Ear Publishing, LLC
Dog Ear Publishing offers completely customized self-publishing services for independent authors. We provide cost-effective, fast, and highly profitable services to publish and distribute independently published books. Our book publishing and distribution services reach worldwide. Dog Ear authors retain all rights and complete creative control throughout the entire self-publishing process. Self-publishing services are available globally at http://www.dogearpublishing.net
and from our offices in Indianapolis.
Dog Ear Publishing – self-publishing that actually makes sense.