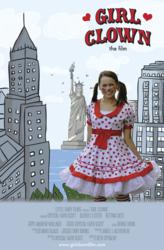 GIRL CLOWN was shot on location in NYC (Times Square and Upper West Side), so we are thrilled to have our World Premiere here.
New York, NY (PRWEB) November 13, 2012
"Girl Clown" the film, a quirky romantic short film "with a whole lot of heart", written by and starring Crystal Faith Scott and directed by Beth Spitalny, announces its world premiere on November 15, 2012 at the Big Apple Film Festival at Tribeca Cinemas in NYC, and on November 16, 2012 at the Williamsburg Independent Film Festival in Brooklyn.
"Girl Clown" is a "charming and quirky" romantic comedy set in New York City about a mousy, lovelorn secretary who attempts overcome her shyness and find true love by becoming a professional clown. Starring Crystal Faith Scott, Bettina Skye, and Oliver C Lester, the film features a vibrant cast of colorful and crazy characters, like "Dainty Daisy" the Clown Agent and "Loony Larry" the over-zealous party clown. The film is based on the writer/star's Scott's own experiences of becoming a children's clown in NYC.
The Big Apple Film Festival was named one of MovieMaker Magazine's top "25 Film Festivals Worth The Entry Fee" and "One of the 25 Coolest Film Festivals", is "dedicated to showcasing and promoting the highest quality films from the New York City independent film community".
The majority of the production funds for "Girl Clown" came from donations to Scott's Kickstarter campaign in 2010.
"Girl Clown" has been a passion project of mine for over 5 years", says Scott, who, in addition to being an actress (including THE VENTRILOQUIST, SOLE MATES, and numerous TV commercials) works as children's clown as her day job. "I first got the idea for the film from my own clown experiences. As I would walk through the streets of New York City dressed in my clown outfit, I would see many poker-faced, jaded New Yorkers breaking into smiles and saying 'Hi!', or coming over to chat with me. I thought that I had to make a film about this."
Scott and her film "Girl Clown" were also recently featured in the book "Hello Cutie: Adventures in Cute Culture", where Scott was interviewed about the film.
For information/tickets to the Thursday 11/15, 9:45PM (Program 11) screening at Big Apple Film Festival at Tribeca Cinemas, please visit http://www.brownpapertickets.com/event/276721
For information/tickets to the Friday 11/16, 7PM screening at Williamsburg Independent Film Festival, please visit: http://www.brownpapertickets.com/event/131014
About LITTLE FAIRY FILMS
Little Fairy Films is an independent film and media production company dedicated to developing and producing "magical and meaningful" projects by women.