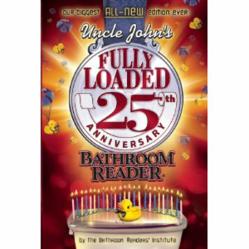 Publisher of the popular Uncle John's Bathroom Reader, Gordon Javna, will be taking to the air-waves across the country to talk about the new book Fully Loaded
(PRWEB) November 12, 2012
Gordon "uncle john" javna announces radio tour dates.
Publisher of the popular bathroom reader series to talk about 25 years of bathroom reading.
WHEN: November 13 – December 30, 2012
OVERVIEW:
Meet "Uncle John" himself! Publisher of the popular Uncle John's Bathroom Reader, Gordon Javna, will be taking to the air-waves across the country to talk about the new book Fully Loaded and the state of bathroom reading after 25 years for his annual radio tour.
With more than 100 titles published over the past 25 years, the Bathroom Readers' Institute is celebrating its Silver Anniversary the best way it knows how—by releasing its largest book yet: Uncle John's Fully Loaded 25th Anniversary Bathroom Reader® (ISBN 1-60710-562-4)
In this latest edition, Uncle John's Fully Loaded 25th Anniversary, the Bathroom Readers' Institute takes its audience even further into the realm of the odd and obscure. From doomsday predictions that never came true to bizarre Japanese video games and an entire page dedicated to euphemisms for what goes on in the water closet, this 25th Anniversary edition is overflowing with all the things fans love about Uncle John.
If you are interested in booking Gordon Javna, please contact Karen Wadsworth at Media Masters Publicity karen@mmpublicity.com
SCHEDULE:
*please note additional dates and cities are still being added – for up-to-date times and cities, please visit: http://www.bathroomreader.com/radio-tour
NOVEMBER
TUESDAY, NOVEMBER 13:
7:15-7:30AM ET GREENVILLE, NC WTKF-FM & WJNC-AM Coastal Daybreak with Ben Ball
7:35-7:50AM ET FLINT WHNN-FM Mornings with Johnny Burke & Blondie
8:10-8:20AM ET MINNEAPOLIS WYRQ-FM Mornings with Al
8:40-8:40AM ET ATLANTA WDUN-AM Mornings w/Bill & Joel
9:05-9:15AM ET WAUSAU, WI WSAU-AM/FM Seth Mela Show
9:20-9:30AM ET MINNEAPOLIS KTOE-AM Morning Show w/Dan & Don
9:30-9:40AM ET SALISBURY, MD WOCM-FM Bulldog & The Rude Awakening
10:15-10:30AM ET BISMARCK, ND KFYR-AM Morning Show with Phil Parker
10:30-10:40AM ET SPOKANE KICR-FM & KIBR-FM Morning Stampede w/Derik Walker
10:45-11:00AM ET ALBUQUERQUE KDAZ-AM Morning Show with Birga Alden
11:15-11:30AM ET PHILADELPHIA WOND-AM Barbara Altman Show
12:45-1:00PM ET BOSTON WCAP-AM Jack Baldwin Show
3:30-3:45PM ET COLORADO SPRINGS KCMN-AM Tron Talk
4:00-5:00PM ET FLINT WFNT-FM Tom Sumner
WEDNESDAY, NOVEMBER 14:
7:20-7:30AM ET NATIONAL USA & IRN NETWORKS (religious) Jay Young Show
7:40-7:50AM ET CLEVELAND WMJI-FM Lanigan & Malone
8:10-8:20AM ET NORFOLK WXGM-FM Neal Steele Show
8:45-8:55AM ET PITTSBURGH WDAD-AM Indiana In The Morning w/Todd Marino
9:05-9:15AM ET SACRAMENTO KCCL-FM Joey Mitchell Show
9:15-9:30AM ET HARRISBURG WIEZ-AM & WMRF-FM Merf Morning Show
9:30-9:45AM ET NEW YORK WKNY-AM Mornings with Warren Lawrence
9:50-10:00AM ET COLUMBUS WQEL-FM Morning Drive with Will Beard
10:20-10:30AM ET NATIONAL SYNDICATED The Bobby D Show
10:30-10:40AM ET DALLAS KRVF-FM AM Show with Jim and Dean
11:40-11:50AM ET ST. LOUIS KKWK-FM Morning Drive with Nathan
TUESDAY, NOVEMBER 20:
7:40-7:50AM ET CLEVELAND WEOL-AM Morning Show with Bruce and Craig
7:50-8:00AM ET NORFOLK WERX-FM Marko in the Morning
8:15-8:30AM ET TULSA KIND-FM Morning Fix with Spanky
8:35-8:50AM ET CLEVELAND WELW-AM Wake Up Lake County w/Ray, Steve & Brian
9:35-9:50AM ET COLUMBIA, MO KLOZ-FM Mornings with Mike (Clayton)
9:50-10:00AM ET SYRACUSE WYYY-FM Kathy Rowe Show
10:00-10:15AM ET MINNEAPOLIS KQRS-FM Q92 Morning Show w/Tom, Bob & Terri
10:15-10:25AM ET SPRINGFIELD, IL WQQL-FM Meneghetti in the Morning
11:02-11:15AM ET BOISE KRVB-FM Ken Bass
7:30-7:45PM ET PALM SPRINGS KNWQ-AM David Wilson Show
TUESDAY, DECEMBER 4:
8:40-8:50AM ET MOBILE WKSM-FM The Morning Movement w/Nic and Murph
8:50-9:00AM ET BROCKVILLE, ONTARIO CFJR-FM Breakfast Club with Bruce and Rihanna
9:10-9:25AM ET GREENVILLE, NC WPNC-FM AM Show with Bill Benjamin (HUGE HUGE FAN)
9:25-9:40AM ET WICHITA KSAL-AM KSAL Morning News with Jeff Garretson
9:45-10:00AM ET COLUMBIA, MO KFRU-AM Columbia Morning With David Lile
10:40-10:55AM ET EUGENE KPNW-AM KPNW's Wake Up Call with Bill Lundun
11:00-11:15AM ET ALBUQUERQUE KAZX-FM Star Mornings with Brett & Jayme
11:15-11:30AM ET PRINCE EDWARD ISLAND CHTN-FM Midday Show with Corey Tremere
11:45AM-12:00PM ET CHICO, CA KBLF-FM News Feature with Cal Hunter
12:35-12:50PM ET WINDSOR, ON CKLW-AM Arms' Midday Show
1:00-1:15PM ET PARKSVILLE, BC CIBH-FM Morning Show with Dave Graham
WEDNESDAY, DECEMBER 5:
8:05-8:15AM ET BANGOR, ME WZON-AM/FM Mornings with Pat and Don
8:15-8:30AM ET LACROSSE WLFN-AM BS with Bob Schmidt
8:40-8:50AM ET BOSTON WATD-FM WATD Mornings with Rob and Christine
9:10-9:20AM ET MINNEAPOLIS KWNG-FM & KCUE-AM & KLCH-FM #1 Morning Show with Tom Hughes
10:05-10:15AM ET SIOUX FALLS, SD KTWB-FM Chris and Doc Show
12:45-1:00PM ET VICTORIA, BC CHBE-FM Kool Mornings with Robin and Brian
THURSDAY, DECEMBER 6:
9:40-9:50AM ET OTTAWA CIDG-FM Dawg's Breakfast
10:05-10:15AM ET WINNEPEG, MANITOBA CJOB-AM Morning Show with Hal Anderson
10:20-10:30AM ET WETASKIWIN, ALBERTA CKJR-AM Morning Drive with Billy Willams
11:05-11:15AM ET RED DEER, ALBERTA CKGY-FM Morning Show with Greg Shannon
TUESDAY, DECEMBER 11:
1:00-1:15PM ET RENO KMMT-FM News feature with Stacey Powells
TUESDAY, DECEMBER 18:
5:15-5:30PM ET WASSAU, WI WRJO-FM Afternoons w/Mike Wolf
6:15-6:30PM ET ABILENE, TX KXYL-AM/FM Mark Cope Show
THURSDAY, DECEMBER 27:
8:20-8:30AM ET ROCKFORD, IL WROK-AM Morning Show with Greg Saunders
9:15-9:30AM ET ROCHESTER, MN KROC-FM Rochester's Good Morning w/Richard Peterson
About Portable Press
Portable Press is an imprint of Baker & Taylor Publishing Group, a division of Baker & Taylor, known as a world leader in digital and traditional media distribution. For 25 years, Portable Press and the Bathroom Readers' Institute (http://www.bathroomreader.com) have squeezed out the competition with the Uncle John's Bathroom Reader® series to become the longest-running, most successful, and bestselling bathroom reader book series in North America. With more than 10 million copies in print, you can trust Uncle John to bring you the best in pop culture, forgotten history, strange lawsuits, the origins of everyday things, weird news, and more.