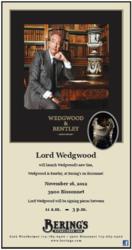 Houston, TX (PRWEB) November 13, 2012
Bering's Hardware has been selected by WWRD Holdings as one of five retail stores to unveil the Wedgwood and Bentley Collection for its North American debut. This exclusive new collection pays homage to a new generation of luxury consumers, building on Wedgwood's 250 years of design and craftsmanship heritage. The collection combines timeless iconic pieces mixed with newly-designed contemporary classics to blend tastefully into any fine home throughout the world, adapting it to the essence of the modern luxury interior.
Wedgwood & Bentley harkens back to the highly successful partnership started in 1762 between Wedgwood's founder, Josiah Wedgwood, and Thomas Bentley, a well educated and well connected businessman, who became the Wedgwood brand ambassador to royalty and aristocracy all around the world. The two fast became friends, going on to form one of the most successful and brilliant creative partnerships of the age and creating together the first true global luxury brand - WEDGWOOD.
Designed to provide a dramatic focal point in any stylish space, each piece is a unique work of art, handcrafted by artisans – the majority of which have spent their lives perfecting their craft. Most of the Wedgwood and Bentley pieces are limited editions signed by the artisan. The collection also offers the possibility to create bespoke tableware featuring the consumer's monogram, family crest or any other desired personal identification.
"Being selected as one of a handful of retailers to launch Wedgwood's new Wedgwood and Bentley line in North America is truly an honor," said Augie Bering V, Bering's President. "Bering's Hardware has worked hard to provide our customers with the highest of customer service as well as the highest quality of merchandise. We respect the Wedgwood legacy and family lineage and are excited to be selected, once again, to host Lord Wedgwood for two days of signing and appearances. What's even more important is being able to share in promoting The Rise School of Houston. We believe it says a lot about Lord Wedgwood and WWRD Holdings to include the launch at both the charity event, as well as the in-store signing."
The two days will commence with The Rise School of Houston's Gifts from the Heart 13th annual shopping extravaganza, taking place at Bering's Hardware, 3900 Bissonnet, on Thursday, November 15th from 6:00 p.m. – 9:00 p.m. For those unable to attend the Rise Event Thursday evening, Lord Wedgwood will be signing pieces as well as visiting with customers at Bering's on Bissonnet, Friday, November 16th from 11:00 a.m. – 3:00 p.m.
####
About Bering's:
The first Bering's Hardware opened in Houston, Texas in 1940 as a traditional hardware and lumber company. A second location was developed in 1987. Through the years, Bering's has grown its offerings into 16 separate departments and has been cited in several national articles and books as being one of the best places to shop in America.
Bering's continues to operate as a family owned, one-of-a-kind store providing an unparalleled shopping experience. Renowned for their bridal and baby registry services, offering an incredible array of upscale gifts including china, crystal, stationery, coffees and teas, quality hardware items for the home, as well as everything for the kitchen and yard.
About the Rise School of Houston:
The Rise School of Houston provides the highest quality of early childhood education to children, ages 6 months to 6 years, with Down syndrome and other disabilities, as well as children without disabilities. The Rise School of Houston is funded solely through the generosity of individuals, corporate donors and foundations and is the only school of its kind in Houston serving pre-school age children with disabilities in an integrated environment. The program's focus is preparing all children for inclusion in mainstream kindergarten.
About WWRD Holdings Limited:
WWRD Holdings Limited is the leading provider of luxury home and lifestyle products worldwide, sold under a number of well-recognized brands, including Waterford, Wedgwood, Royal Doulton, Royal Albert and Minton. WWRD Holdings also maintains unique licensing arrangements with some of the most high-profile innovators in the home and lifestyle market, including Vera Wang, Jasper Conran, John Rocha, Monique Lhuillier, Gordon Ramsay, Donna Hay and Michael Aram. The Company's products are distributed through premium department stores and independent retailers and wholesalers around the world, including in the United States, United Kingdom, Japan, Canada and Australia. WWRD Holdings employs 3,200 people worldwide.