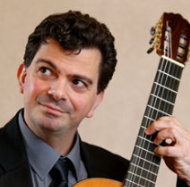 Santa Fe, NM (PRWEB) November 11, 2012
As luck would have it, this November The GiG Performance Space is delivering well received and accomplished classical guitarist Roberto Capocchi to the stage from 7:30 to 9:30 p.m., Fri. Nov. 30, 2012. Santa Fe audiences have heard classical guitarist Roberto Capocchi at not only the Lensic Theater in the past, but also the Santa Fe Opera, Santa Fe Desert Chorale, Santa Fe New Music, Society of Composers Inc., Serenata Santa Fe, Haydn Festival International, James A. little Theater, and GiG Performance Space. He has performed to critical acclaim throughout his native Brazil, the United States, and Mexico, as well as Canada and Belgium. The evening with Mr. Capocchi is featured on the SantaFe.com event calendar.
After winning top prizes in various competitions in Brazil and the United States, Mr. Capocchi received his Master of Music degree from the University of Arizona with the help of the Dean's Fund for Excellence and the William Wolf Scholarship. He is currently Artist-in Residence at Adams State University and is on faculty at New Mexico Highlands University, Santa Fe University of Art and Design, United World College, and New Mexico School for the Arts. Upcoming performances and master-classes include the prestigious Portland Guitar Series and an Artist-in-Residence position at New York University's Abu Dhabi campus in the United Arab Emirates.
About GiG Performance Space:
GIG PERFORMANCE SPACE provides gigs for local and national musicians. A project of the non-profit Open Arts Foundation, GiG is a dedicated music performance venue in Santa Fe. It is a place for musicians to practice their art in a respectful, inspiring environment, a hub for the developing music community and a gathering place for music lovers of all types. GiG also produces educational events that provide interaction between world-class musicians and students of all ages. Open Arts Foundation has presented Gary Burton, Dave Holland, Michael Brecker, Kenny Werner, Dapp Theory, Paul McCandless, Art Lande, Dori Caymmi, Robben Ford, Nguyên Lê, Bill Frisell, Fred Hersch, Simon Shaheen, Eliane Elias and Dave Liebman among many others.
Contact Information:
GiG Performance Space
1808 Second St., Suite H
Santa Fe, NM 87505
Bruce at brucedulap dot com
About SantaFe.com
SantaFe.com provides locals and visitors to Santa Fe alike the most current interactive platform for events, music, arts, business, dining and lifestyle. SantaFe.com is a division of Hutton Broadcasting, located at 2502 C. Camino Entrada, Santa Fe, NM 87507
Contact Information:
Scott Hutton
SantaFe.com / Hutton Broadcasting
http://www.santafe.com
(505) 471-1067 (Media inquiries only, please)