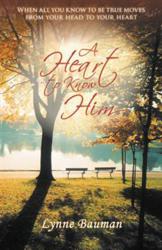 develop a heart that really believes who God is, to believe that all His promises apply to them, for them to walk in the freedom of knowing they are God's child and develop a heart that knows God in a deeper way
NEW MILFORD, Conn (PRWEB) November 12, 2012
One day at a women's bible study group, Lynne Bauman watched a video that would change her life forever. As she watched the video series, the speaker muttered a simple line, "I may not know a lot of things, but one thing I know for sure is who my God is". This line was the catalyst for a journey that Bauman has been on for several years. "A Heart to Know Him: When all You Know to Be True Moves from Your Head to Your Heart" (published by WestBow Press) is an inspirational guide that chronicles the struggles and triumphs she has been through since fully coming to God that day.
Bauman had always wanted to develop a closer connection to God, but had always fallen short. After that day, she decided to throw all of her trust into the promises she knew God had for her. Woven throughout her journey are a series of what she describes as "Heart Reflections," or mini devotionals, that came about because of her healing journey. With vulnerability and honesty, she shares how her heart was healed and how her relationship with the Lord, as well as, her life has changed for the better.
An excerpt from "A Heart to Know Him":
"When I think of the word redeems, I think of second chances, making better, and claiming something lost. Can you relate to any of those meanings? I sure can. God has been faithful to show me how He can redeem anything that we give to Him. The actual definition of the word means to "change, recapture, reclaim, regain, restore the honor, worth or reputation of." Wow! By this definition, can you look back over your life and see God's redeeming grace at work?"
Bauman hopes that readers will "develop a heart that really believes who God is, to believe that all His promises apply to them, for them to walk in the freedom of knowing they are God's child and develop a heart that knows God in a deeper way."
About the Author
Lynne Bauman is a wife and mother of two. She has been involved in women's ministries as a leader, teacher and mentor. She is actively involved in her church, Walnut Hill Community Church, in Bethel, Conn.
WestBow Press is a strategic self-publishing alliance of Thomas Nelson, Inc., the world's largest Christian publisher, and Author Solutions, Inc. (ASI) — the world leader in the popular self-publishing industry segment. Through this partnership, authors benefit from the rich publishing heritage of Thomas Nelson and the speed-to-market advantages of the ASI self-publishing model. Titles published through WestBow Press are evaluated for sales potential and considered for publication under the Thomas Nelson imprint. Thomas Nelson, Inc. continues to "inspire the world" with distribution of products in more than 100 countries worldwide. For more information, or to start publishing today, visit http://www.westbowpress.com or call (866)-928-1240. Follow us @westbowpress on Twitter for the latest news.