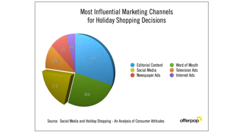 Consumers are turning to social channels to help them make purchase decisions – it's up to marketers to guide them with information about their product offerings and establish easy paths to purchase.
New York, NY (PRWEB) November 12, 2012
A new survey released today from Offerpop, a leader in next generation social marketing platforms, reveals that consumers are now more likely to consult social media for holiday purchase decisions than TV, newspaper, and online advertising. The research, entitled "Social Media and Holiday Shopping: An Analysis of Consumer Attitudes," examined how consumers plan to use social media outlets and tools while planning their holiday shopping this season.
Key findings from the research include:

90% of respondents said that following a brand on social media makes them either somewhat likely or very likely to consider the brand when planning their holiday shopping list.
Nearly all respondents across all demographic categories replied they were either somewhat likely (61%) or very likely (36%) to turn to social media before buying something.
32% of respondents said discovering new gift ideas is the most effective use of social media for holiday shopping. Only 7% said it was sharing product purchases.
"These survey results highlight the importance of a strong social media presence for brands, particularly during the holiday buying rush," said Mark Cooper, Co-Founder and CMO of Offerpop. "Consumers are turning to social channels to help them make purchase decisions – it's up to marketers to guide them with information about their product offerings and establish easy paths to purchase."
The study, commissioned by Offerpop and conducted by Assistant Professor of Communications at New York University, Liel Leibovitz, collected data from a sample size reflective of the general adult U.S. population during September and October 2012.
"As social media thrive and grow more adept at offering their users myriad experiences, they become an increasingly influential source for gathering information and making decisions when considering purchases," said Liel Leibovitz, Assistant Professor of Communications at New York University, who conducted the survey.
When ranking sources that consumers consult before making holiday purchasing decisions, editorial content and word of mouth tied for first, with roughly 25% each, followed by social media, with 20%. These were followed by television ads with 12%, newspaper ads with 9%, and Internet ads with 4%.
When asked whether following a brand on social media will influence their decision to make that brand a part of their holiday shopping list, around 63% responded somewhat likely, and 27% responded very likely.
When asked about the most effective way to use social media to help out with holiday shopping, consumers ranked discovering new gift ideas highest, at 35%, followed by keeping track of friends and family wish lists at 20%, and buying directly from links offering good deals, also at 20%. Among product categories that consumers are more likely to seek information about using social media, fashion ranked highest, followed by events, travel, and consumer electronics.
When consumers were questioned about how likely they were to use social media to tell friends about a new purchase or gift idea, 27% said it was unlikely; 38% said it was somewhat likely; and 35% said it was very likely.
"Consumers are typically eager to keep their gift purchases secret from their family and friends – making them unlikely to utilize 'share purchase' functions on e-commerce sites," said Cooper. "This makes it all the more important for marketers to focus on top-of-funnel social goals during the holiday season, like awareness and engagement programs that drive reach and click-throughs."
A total of 503 American adults were surveyed in September and October 2012 to build this research. Subjects were approached exclusively online via several distinct and divergent platforms, including social networking sites, forums, and dedicated emails. The average age of respondents was 34.
About Offerpop
Offerpop is an easy-to-use self-service platform used by marketers to create campaigns on Facebook and Twitter in minutes. Offerpop has thousands of customers around the world – from agencies, to mid-size companies, to global brands and retailers like American Eagle Outfitters, Disney, Microsoft, Tesco, Universal Music, and Walmart. Brands use Offerpop's 19 apps to run promotions, sweepstakes, and fan engagement programs week in and week out. The platform channels natural social gestures to drive fan acquisition, brand awareness, and repeat purchases. Offerpop is a Facebook Preferred Marketing Developer, qualified by the PMD program in Apps.
Contact
For more information, please contact Mairead Ridge, at Mairead(at)Offerpop(dot)com or Michael Cecil, at Michael(at)Thunder11(dot)com.