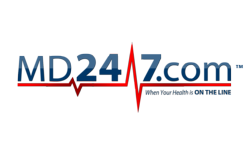 MD247 Reviews Diabetes
Tampa Florida (PRWEB) November 12, 2012
On November 11, 2012, MD247 sent out a notice to all telemedicine program members discussing National Diabetes Awareness Month and the subject of diabetes mellitus.
Diabetes mellitus, most often referred to simply as diabetes, is a condition in which the body does not properly produce or regulate the hormone insulin. The hormone produced by the pancreas allows cells to absorb glucose from food, in order to turn those calories into energy. The body of a diabetic fails to properly respond to its own insulin, causing glucose to accumulate in the blood, often leading to a number of complications.
Many types of diabetes are recognized:

Pre-diabetes presents as a condition that occurs when a person has increased glucose levels, but they are not high enough for a diagnosis of type two diabetes.
Gestational diabetes targets a group of women who have never had diabetes, but have increased glucose levels during pregnancy. This increased blood sugar may signal the onset of type 2 diabetes and, in very rare cases, it may signal a diagnosis of type 1 diabetes for the child.
Congenital diabetes.
Steroid diabetes induced by high level of glucocorticoids.
Cystic fibrosis related diabetes.
The goal of the notice to all telemedicine program members is to serve both as an alert and a list for "checking" the potential conditions that can lend themselves to a diagnosis of diabetes. The MD247 content team hopes that the informational alert will serve as a reason for program members to chat with a doctor.
Largo Florida based MD247.COM (MD247; MD/247; MD 247; M.D.247; MD-247) provides an affordable telemedicine supplement to existing healthcare services. MD247.COM telemedicine program members have unlimited telephone access to a nationwide medical support team, all with just a single phone call to the MD247.COM telemedicine Chat With a Doctor/Talk to a Nurse Hotline. MD247.COM has a virtual platoon of registered nurses; board certified physicians and a support staff available to members for all non-emergency situations. More information about MD247.COM is available online at http://www.md247.com.