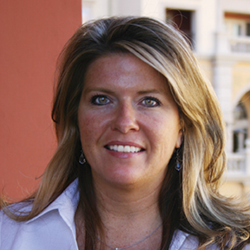 Jill Erickson is a visionary who knows how to harness technologies long before her competitors catch on. She possesses extraordinary expertise in the Internet and social strategies essential to Gild's vision of using digital media as a recruiting channel.
San Francisco, CA (PRWEB) November 12, 2012
Gild, which brings meritocracy to HR through innovative recruiting technologies, is excited to welcome Jill Erickson as its new Chief Revenue Officer. Erickson comes to Gild from TMP Worldwide, the world's leading recruitment advertising company, where she pioneered digital strategy for the organization's Fortune 500 clients.
"Jill Erickson is a visionary who knows how to harness technologies long before her competitors catch on," said Sheeroy Desai, CEO and co-founder of Gild. "She possesses an extraordinary level of expertise in Internet and social strategies that are essential to Gild's vision of using digital media as a recruiting channel; and her pioneering track record in creating innovative search, mobile and custom web campaigns will clearly benefit our clients."
A renowned expert and early adopter of the digital industry, Erickson has been at the forefront of leveraging digital strategies to improve hiring initiatives for Fortune 500 companies since the early 1990s. As most organizations were still tentatively dipping their toes into e-commerce applications, Erickson was spearheading Internet, digital and social solutions that directly linked candidates with hiring teams and employers.
As the new Chief Revenue Officer for Gild beginning November 2012 Erickson will drive sales, growth and strategy for Gild's high-profile client list, which currently includes Red Hat, Akamai, Facebook, Box.com, VMWare, Vistaprint, Zipcar and more. She will also steer the expansion, implementation and adoption of Gild's recently released recruitment and profiling platform, Gild Source.
"Digital and social media are completely remodeling the way organizations identify, engage and recruit today's best candidates," said Erickson. "My introduction to Gild revealed an organization hell-bent on reinventing and reinvigorating the recruiting industry. It is incredibly exciting to become part of something that will forever impact the talent search process."
"Jill brings a transformative technology perspective and background not commonly seen sitting at the HR table," said Brad Warga, senior vice president for Customer Success at Gild. "We've worked hard to assemble a non-traditional pool of expertise and purposely sought out her specific talents to accelerate our growth. Jill is the ideal addition to our team because she shares Gild's vision: That technology can illuminate real talent, and thus drive successful recruiting."
"Jill's work with some of the most exclusive brands in the world, and 20-year immersion in groundbreaking digital media and Internet technologies for such clients, represents an incalculable coup d'état for Gild," added Desai. "The caliber of clients in her résumé mirrors those Gild serves, and her connections and experience will drive us to dramatically change the recruiting industry and talent search landscape."
For more information on Gild, visit: http://www.gild.com/company/press/
About Gild
HR and recruiting have been begging for innovation. That's why Gild is here. Gild exists to bring meritocracy to the professional world by providing hiring solutions that illuminate who's talented. Companies use Gild's patent-pending hiring solutions to find and engage the best candidates out there. Unlike professional networks and job boards, Gild's solutions tell companies how good different prospects are, and provide the social insights hiring teams need to engage prospects effectively. Launched in 2011, Gild is backed by Globespan Capital Partners and is headquartered in San Francisco, CA.