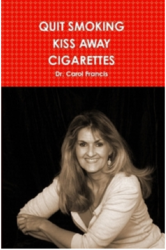 Be free to be healthy by embracing all the tools available to help you stop smoking today.
Los Angeles, CA (PRWEB) November 13, 2012
Dr. Carol Francis, author of "Quit Smoking KISS Away Cigarettes" offers five tools -detailed in her book-available TODAY instantly as an ebook through this link -click here.. To help many stop smoking this week, many hypnotic videos from Dr. Carol Francis are available free through YouTube at this link (Click here). Audio podcasts for easy downloading include stop smoking hypnotic sessions and valuable information-rich programs on how to STOP SMOKING effectively and are available through the Dr. Carol Francis Radio Talk Show. These recordings are available free at this link: blogtalkradio.com/dr-carol-francis. At this link, Dr. Carol Francis briefly explains 8 categories of changes smokers can implement to set the stage to stop smoking and then provides a hypnotic subliminal session too. Other podcasts to assist with stop smoking are available at this site as well.
Dr. Carol Francis, Psychologist and Counselor is located in Torrance, Manhattan Beach and Palos Verdes (suburbs of Los Angeles, CA), and offers many tools freely or inexpensively. These tools offer sincere but frustrated smokers key assistance to propel them toward being smoke-free, healthy and relieved to stop the struggle with being addicted to cigarettes. Dr. Carol Francis, through 32 years working with smokers, has identified eight key reasons individuals smoke. Each of these eight reasons need to be addressed to truly free the smoker from cravings, habits, social patterns, physiological reactions, and personal identification with being a smoker. Using no less than 5 tools -all at once- helps individuals stop smoking more securely than using just one method of smoking cessation at a time.
More information available through Dr. Carol Francis' books, videos, radio programs, and podcasts are detailed at drcarolfrancis.com.
"Some easy-to-change activities which help support the smoker to stop includes the following activities. Sleeping 7-9 hours a night, taking certain vitamins, mineral supplements, and herbal blends; eating certain vegetables enriched and drinking plenty of water; finally, reducing alcohol and caffeine consumption used before or while smoking; and cleaning out cars and clothing and changing shopping habits. These are preliminary, practical interventions. These are easy changes which can precede the QUIT DAY. Setting the stage for your body to accept the physical changes you will experience when you stop, helps you reduce cravings and fortify your body's changes during the first 3 weeks of being a nonsmoker," explains Dr. Carol Francis.
Join the thousands who will be deciding to let the Great American Smokeout Day on November 15, 2012, to be the QUIT DAY and use these tools to help make quitting doable and effective.
Dr. Carol Francis at drcarolfrancis and 310-543-1824