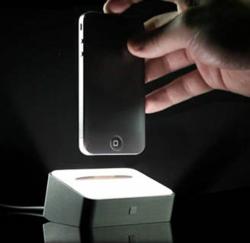 From the time you go to bed to the moment you wake up, Lumawake is working to improve your life in a fun and exciting way.
San Diego, CA (PRWEB) November 19, 2012
Boasting its own microprocessor, multicolor LEDs, and motion sensors, Lumawake is much more than a charging dock for your iPhone. The team has been working for years to create a product that improves people's lives during that one-third of the day that is consistently overlooked.
"From the time you go to bed to the moment you wake up, Lumawake is working to improve your life in a fun and exciting way", said Drew Shepard, Lumawake's Co-Founder.
Intuitive features like smart auto-lighting sense your approach and make docking a breeze, even in a pitch-black room. Lumawake is also the first product to combine Simulated Sunrise and Smart Wake technology to ensure that you wake naturally and at the optimal time in your sleep cycle.
Through sleep hacking and home automation, Lumawake provides an unprecedented wake experience that's going to change the way people start their days.
Utilizing a passive infrared motion sensor and a complex algorithm, Lumawake tracks your sleep cycles throughout the night and delivers a detailed report to you each morning. Armed with data, users can optimize their daily routine to improve restorative sleep and feel better each day. Unlike its competitors, Lumawake does all of this with no extra effort from you – nothing on the bed and nothing to wear. It's completely non-contact.
Lumawake's integration with the latest third party home automation systems, like SmartThings and Belkin's WeMo, allow it to trigger events in your home based on your behavior - things like turning off the lights and TV when you fall asleep or starting a fresh pot of coffee and opening your blinds the moment you wake up.
The powerful processor found inside the docking station is complemented by a free app. This allows users to track sleep data, set wake events and create custom notifications using the multicolor LEDs hidden below the dock's surface. Users can set colors, brightness and behavior for things like phone calls, emails and text messages. It can even be used as a nightlight or for ambient lighting.
Lumawake was engineered to work with any generation iPhone or iPod Touch and is compatible with nearly every protective case on the market. "Lumawake is packed with features that people are going to love, and with an open API, the possibilities of what it can do are really only limited by the imagination." said Greg Laugle, Co-Founder of Lumawake.
Lumawake officially launched on November 19th, 2012. They hope to raise at least $150,000 to begin production. "Early adopter" pricing starts at $149 and Lumawake will retail for approximately $199.
The team is an Apple MFi licensee and Lumawake was designed and engineered from the ground up to meet Apple's strict requirements for authorized hardware partners. Together, they bring almost 30 years of combined experience in designing, engineering and manufacturing.
Lumawake is leveraging Selfstarter.us, a newly open-sourced crowdfunding platform released by the makers of Lockitron.