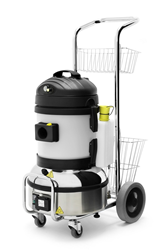 Daimer® is excited to present the only steam cleaner machine of its type with special technologies, simultaneous extraction, temperatures up to 356°F, and pressure levels up to 105 psi. We offer the industry's only commercial steam vac with ATIS®.
Woburn, MA (PRWEB) November 12, 2012
Daimer Industries, Inc.®, a highly respected supplier and brand of technologically advanced steam cleaner and carpet steam cleaner machines with hundreds of models shipped globally, presents the KleenJet® Mega 1000CVP. The United States EPA (Environmental Protection Agency) compliant vapor steam cleaner with Daimer®'s patent-pending Advanced Thermal Ionic Sanitization® (ATIS®) certified anti-bacterial technology helps ensure cleaning pros can target some of the most deadly bacteria.
Independent scientific studies have proven ATIS® kills up to and over 99.99% of MRSA, E.Coli, Salmonella, Listeria, and more. Daimer®'s KleenJet® Mega 1000CVP is the world's only steam vacuum cleaner with an EPA number listed on the machine, and proves anti-microbial authenticity.
"The machines used by cleaning professionals must ideally score high in terms of efficiency, versatility, and ease of operation. Multifunctional cleaning machines equipped with simultaneous disinfecting functions are in high demand among cleaning experts," says Daimer Industries, Inc.® spokesman Matthew Baratta. "Daimer® is excited to present the only steam cleaner machine of its type with special technologies, simultaneous extraction, temperatures up to 356°F, and pressure levels up to 105 psi. We offer the industry's only commercial steam vac with ATIS® technology, proven to kill some of the most deadly bacteria that has cost thousands of lives and billions of dollars in medical expenses."
The KleenJet® Mega 1000CV is a truly professional-level commercial steam cleaner designed to accomplish a host of cleaning operations in hospitality settings, healthcare facilities, restaurants, commercial kitchens, malls, schools, offices, and more. Compared to conventional versions that simply offer more basic cleaning and disinfecting functions, Daimer®'s commercial and industrial steam cleaners offer unmatched technologies and features to maximize productivity and efficiency.
Daimer®'s steam cleaner system is highly advanced and features the company's proprietary and latest technologies like HEPA filtration and automatic Water Capture for effective collection of dirt and allergens, such as pollen, dust mites, bed bugs, pet dander, and more. Although the system is not a professional carpet steam cleaner, the company's commercial steam cleaner will work to steam and extract particulates on carpeting.
Studies show improper disinfecting practices in settings, such as restaurants, hotels, and hospitals, can easily trigger allergies and infections in 30 percent of people, especially in children and the elderly. The emphasis on impeccable cleaning services is thus higher than ever before. To cater to the high expectations, cleaning experts must be equipped with commercial and industrial steam cleaner systems that promise effective elimination of particulate matter and disease-causing pathogens.
The ruggedly built Daimer® KleenJet® Mega 1000CVP vapor steam cleaner is the industry's most powerful vapor system using a standard 100 volt power connection. The machine includes the company's well-known Continuous-Refill technology, which allows the operator to add water at any time while the machine is powered. Other brands without this important feature dramatically reduce productivity, since they only offer vapor machines requiring up to a painful 40 minutes of downtime to add depressurize their steamers, add more water, and reheat.
Importantly, Daimer®'s 1000CVP creates temperatures as high as 356°F and pressure ranges up to 105 psi to help remove dirt, grime, grease, food, and other deposits from vinyl, linoleum, hard wood, tile, grout, plastic, metal, vinyl, leather, floors, mattresses, and many other surfaces. The system is excellent for tile and grout cleaning, auto detailing, chewing gum removal with the system's optional gum kit, and many other surfaces and applications. The machine's detergent ejection and dry/wet vacuum functions help enhance specific cleaning functions.
The Daimer® steam cleaning machine comes with over 36 tools and attachments like microfiber towels, upholstery nozzle, steam squeegee, and more for unmatched cleaning results. An optional chewing gum removal kit is available with the machine. The kit includes the most concentrated and lowest-priced gum removal liquid in the industry.
For Additional Information:
For more details on the KleenJet ® Mega 1000CV, call Matthew Baratta at (888) 507-2220 or visit Daimer®'s official website. All Daimer® products are shipped to locations worldwide.
About Daimer Industries, Inc.®:
Daimer Industries, Inc.® is an internationally recognized brand of advanced cleaning machines, including powerful steamer equipment, hard floor cleaners, auto detailing systems, and high-performance carpet steam cleaners. Customers can choose from an extensive assortment of over 600 models of cleaning machines of varying cleaning capabilities. The brand has been purchased by an international customer base spread over 200 countries.