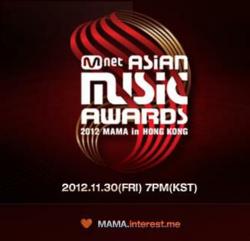 Seoul, Korea (PRWEB) November 13, 2012
PSY, the hottest Asian singer standing in the center of global phenomenon, and Super Junior, the leading K-POP idol group, have confirmed to participate in this year's Mnet Asian Music Awards (hereinafter 'MAMA') on November 30 in Hong Kong.
PSY's 'Gangnam Style' has been at high ranks of nations' official music charts in the United States, Australia, the Netherlands, and the United Kingdom, which is a rare achievement as an Asian singer. At the present, PSY is preparing his official debut in the US, receiving huge attention from music fans worldwide.
Super Junior, the leader of Asian Wave, has taken the top in Korean album sales this year after releasing its 6th album in July. The group is known as the king of K-POP, whose music video is widely loved by fans in the US, Latin America, Australia as well as many Asian countries.
Mr. Dong-chul Han, the General Director of 2012 MAMA said "PSY and Super Junior are not only Korean top stars, but also loved by world's music fans. As soon as the hosting of 2012 MAMA was announced, questions about their attendance were flooded from many Asian countries including Hong Kong, so we decided to disclose their participation in the first place." And he added, "Both singers have shown wonderful performances at year-end Mnet award ceremonies in the past. They are going to show the best-ever upgraded performances at this year's MAMA. Please stay tuned!"
Moreover, Mr. Han said "In addition to PSY and Super Junior, the top-tier world stars are confirming to join 2012 MAMA. We will disclose the list in due order." MAMA is famous for its cutting-edge performance directing. With the two big pillars of K-POP, PSY and Super Junior, expectations for high-end performances at 2012 MAMA are growing.
2012 MAMA will be held at Hong Kong Convention and Exhibition Centre (HKCEC) on November 30, 2012 (Friday), and be broadcasted live.
MAMA was originated from the Mnet KM Music Festival(MKMF), which was launched in 1999 and soon became the nation's largest music festival. In 2009, the event was renamed Mnet Asian Music Awards(MAMA) and held its first ceremony with great fanfare in Korea with new title. MAMA was broadcasted live in ten major countries across Asia. Pushing forward, it started its Asian tour in the following year, laying the groundwork to be an Asia's major music awards ceremony. Being held in Macao in 2010 and Singapore 2011, the festival reinvigorated the music industry across the region. MAMA is not merely a year-end award ceremony. It has reshaped music industry in Korea and Asia and successfully served as a major venue for communication with and among music fans.