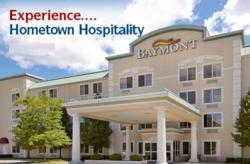 Bellingham Washington (PRWEB) November 15, 2012
Baymont Inn Hotel Bellingham gives early Christmas treat for its "early bird" clients. Hotel customers, who will be booking ahead, at least seven days before the arrival
date, will be given the perk of having a 15 per cent discount on their stay at Baymont Inn Hotel Bellingham. With a 15 per cent discount on their hotel stay, clients will surely enjoy the place at a more affordable price.
Aside from the 15 per cent discount treat for the early birds, Baymont Inn Hotel Bellingham still has a lot to give to its clients. For those who plan to stay at Baymont Inn for at least three nights, a discount of twenty per cent will be given; for at least two nights, a 15 per cent off.
Baymont Inn Hotel Bellingham does not just give perks to those early birds and those who will stay for longer days; rather, the hotel also treats teams and organizations. For organizations and teams or groups, a variety of discount packages will also be given. This treat also gives favor to the senior citizens, government employees, and memberprograms.
As a private company providing support for the US youth soccer, Baymont Inn Hotel Bellingham also gives discounts to US youth soccer players. These players will individually receive 20 per cent discount on up to four hotel rooms on their every stay.
Interested clients of Baymont Inn Hotel Bellingham could do the reservation and booking on the hotel's website at baymontinnhotelbellingham.com. And with an easy clicking on the website, a client can already have an assurance of being booked on one of Bellingham's finest hotels.
More to these, Baymont Inn Hotel Bellingham also gives complimentary breakfast and free high-speed wireless internet connection for their clients. These complimentary treats may be enjoyed by everyone, plus the fact that they have saved money from the many discount offers brought by Baymont Inn Hotel Bellingham.
The great deal will end, and will still be enjoyed by their clients and future clients until the 31st of December, 2012.