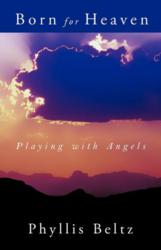 I believe they will be able to relate to someone who has experienced the same hurt.
(PRWEB) November 13, 2012
In her new book "Born for Heaven: Playing with Angels" (published by Inspiring Voices), author Phyllis Beltz shares with readers perhaps the most painful experience any grandparent can suffer: the death of a grandchild.
Beltz's grandson, Christopher, was killed when he was struck by a school bus. This horrific accident affected not only she and her family, but also all of Christopher's classmates and friends, as well.
Beltz's earliest impulse in writing was to have a chronicle for Christopher's younger sister, but as she traveled further and further into the narrative, she realized she was finding honest and powerful therapeutic value in writing. This realization led her to the next one: that there must be many other sisters, brothers, fathers and mothers who could benefit from hearing her story.
In this book readers will discover the incredible yet short life Christopher lived. They will see how he fought to overcome his special needs, and relish the friendship he shared with friends like Jacob, a fellow special needs child. There were many other people who were touched by Christopher's special life – all are celebrated.
"There is grief," Beltz says, "and then there is grief with the loss of a child that is not like anything else. People can relate to someone who has been there knowing their words are not just empty words. I believe they will be able to relate to someone who has experienced the same hurt."
About the Author
Phyllis Beltz, a lifelong resident of Indianapolis, is a widowed mother of two grown children and grandmother of five. She is a former Precept Workshop trainer and currently leads a Precept Inductive Bible Study class in Indianapolis. This is her first book, but she has written articles for her church blog and inspirational messages for women's conferences in Indianapolis.
Inspiring Voices, a service of Guideposts, is dedicated to helping authors share their words of hope, faith and inspiration with the world. A strategic publishing partnership with indie book publishing leader, Author Solutions, Inc.; Inspiring Voices allows authors to publish inspirational and spiritual books without respect to their specific doctrine, denomination or political point-of-view. Authors published through Inspiring Voices benefit from access to exclusive Guideposts marketing services, with select titles appearing in a special collection at Guideposts.org. For more information on publishing with Inspiring Voices, log on to inspiringvoices.com or call 866-697-5313.