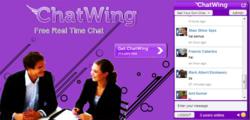 San Francisco, CA (PRWEB) November 12, 2012
Chatwing development team has always been committed and passionate about providing the most competent and reliable free chat widget in the Web. Chatwing team recognizes the need for efficient and dependable real-time communication the reason they continuously enhances their web chat apps. Chat boxes serve a lot of purposes especially to website owners and online entrepreneurs in terms of engaging prospective clients and building a healthy relationship with long time customers.
Chatwing's free chatbox offers ease of use from installation to customization. Chatwing has various useful features that aid global connectivity. These will help online marketers and advertisers to improve their web visibility. Depending on the purpose and range of reach to be achieved, users can choose the widget's form to be embedded into their websites. The most flexible Chatwing style is the vanity URL which allows the user to control the number of participants into the chat box. Group or private chats are ideal for focused group discussion and online surveys for selected customers.
Most shout boxes are simply boxes where chat happens, Chatwing team on the other hand is true to their commitment to bring quality chat experiences to its users. Chatwing's free chat box has full conversation control allows web admins to maintain harmony and productive exchange of sentiments and information through activating the word filter option and deleting messages that are deemed offensive.
The social media integration option is another feature unique in Chatwing's free shoutbox. Allowing web visitors to log in easily by just providing their Facebook and Twitter accounts, this makes the discussion accessible to most web surfers. Moreover, this gives admins database info which can really be handy for later use. Through the social media integration feature, admins can quickly share, in their own social media accounts, chat conversations that can help in promoting their own cause.
Chatwing is not only focused on helping online marketers and advertisers but most web surfers who are after quality real-time interaction. Chatwing team is confident that they can enhance the chat widget to the next level in the succeeding months.
About Chatwing.com
Chatwing.com specializes in the new field of website chat. Over years, the Chatwing team has introduced live chat widget for hundreds and thousands of blogs. The Chatwing application bridges people from many parts of the world, creating global synergy through the Internet. The shout box can be installed in just seconds, and it can be used for varying purposes such as leisure and Internet marketing. It also allows a user to customize the size, color, and name of the widget. Chatwing is 100% free for everyone.