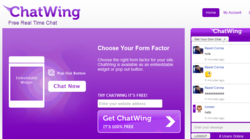 Boston, MA (PRWEB) November 12, 2012
Websites, blogs and forums are the most referred to when it comes to sensible information online. Online forums attract more web surfers because of its very interactive nature. Web surfers can get and share facts, tips and trivias that are related to the set topic. Creating online forum can greatly help in online marketing endeavour and improve a site's web presence. Installing a free chat widget will get everything started.
Chatwing team has never stopped in improving and adding more features to their free chatbox. The team continuously experiments in making the web chat tool the most reliable chat application online. Forum makers can count on Chatwing's shoutbox when it comes to quality and real-time online communication. Website owners don't need to avail a separate website to start a forum of their own, they can simply embed Chatwing chat box to their sites.
Chatwing dev team sees to it that the free chat box offers only convenience and benefits to its users. Chatwing's installation process is simple and won't consume much of the user's time. The global chat tool is compatible to most websites and blogs. Chatwing's simplistic mechanism and social media integration options has made it a potent tool in reaching more people globally.
Chatwing free shoutbox can accommodate a thousand user interactions without compromising real-time communication. The chat tool is flexible enough to control the number of chat participants with its vanity URL option. Chatwing also offers a wide spectrum of modification options from font color to uploading images to serve as background photos.
With Chatwing's new chatbox connecting globally has never been this easy and fun. One can get valuable information from joining forum and chatting activities while expanding his networks of online friends.
About Chatwing.com
Chatwing.com specializes in the new field of website chat. Over years, the Chatwing team has introduced live chat widget for hundreds and thousands of blogs. The Chatwing application bridges people from many parts of the world, creating global synergy through the Internet. The shout box can be installed in just seconds, and it can be used for varying purposes such as leisure and Internet marketing. It also allows a user to customize the size, color, and name of the widget. Chatwing is 100% free for everyone.