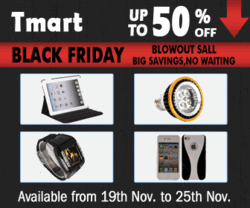 We provide wide selections of products at best price for worldwide free shipping.
(PRWEB) November 19, 2012
It is a traditional shopping season that starts from November to December every year in the USA, owing to Thanksgiving Day, Christmas and forthcoming Black Friday during the period. Many people are expecting the approach of this holiday and hoping buy some cost-effective products during the holiday. Now Tmart.com offers each customer maximum discounts up to 50 % during these 7 days from Nov. 19 to Nov. 25.
With the fanatical pursuit of iPhone 4, iPhone 5 and iPad, more and more people owned and cherished them very much. Hence, it pushes the sales of cute and delicate cell phone cases in the market, such as cool iPhone 5 cases, iPhone 4 cases and iPhone 4s cases. Especially after the hit of iPad min on Nov. 2, 2012, iPad mini cases are popular with people.
According to statistics, the price of iPad may go down on Black Friday and people are expecting maximum discounts this holiday. Therefore, iPad accessories at many stores will have heavy discounts at that time. For example, Tmart.com has released a piece of good news in advance. From Nov. 19 to Nov. 25 Tmart.com will offer customers up to 50% discount during these 7 days. All the special offers are best-selling, including iPhone accessories, iPad accessories, tattoos & body art, Xbox 360 accessories, cell phones, home improvement, flashlights, LED light bulbs and so on. Additionally, a big surprise is that every customer can enjoy free shipping on all the products, especially for popular iPad mini cases. These 7 days will be a golden chance!
About Tmart.com
Tmart.com is an online shopping store, and proud to provide you with a wide selection of products at low prices. At Tmart.com customer can find electronics, such as digital photo frames, chargers, laser pointers, flashlights, cell phones, car accessories, cameras, game accessories, and more. Enjoy shopping here, and take favorite products home at competitive prices with worldwide free shipping! Tmart.com also makes every effort to offer customer efficient and comprehensive customer service.
Contact:
Nick
Tmart.com
718-618-4888, service(at)tmart(dot)com
http://www.tmart.com