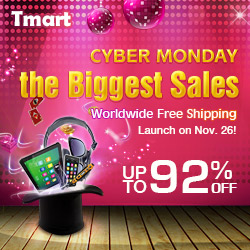 Our goal is to provide our customers with the most innovative and efficient way to search and purchase the highest-quality products in a cost-effective way
(PRWEB) November 23, 2012
With the approach of Cyber Monday, lots of people are preparing a shopping list and searching for cost-effective items and various promotions for the upcoming festival. Now a piece of good news announced by Tmart.com in advance is that up to 92% discount is offered by Tmart.com this Cyber Monday. The discounted products include digital products, Apple accessories, apparel & beauty, men's necessities, household items, as well as limited-time offers. If you miss this Cyber Monday, don't worry! This promotional activity will last from Nov. 26 to Nov. 30.
The discounted products from Tmart are listed as follow:
Digital Products: Computer & networking, flashlights, WII controllers, PS3 controllers, RC helicopters, watch cell phones, MP4 players, batteries
Apple Accessories: iPhone cases, iPad cases, iPhone screen protectors, iPhone headphones
Apparel & Beauty: Nail care, fashionable wigs, eye makeup, corsets, sexy lingerie, earrings, tattoo ink, tattoo grips
Men's Necessities: Lighters, watches, Xbox 360 memory, car OBD diagnostics
Household Items: Shower heads, kitchen scales, kitchen sinks, TV mounts
Various promotional ways are attractive for each customer, like discounts and limited-offer sales. The biggest surprise is that you can enjoy free shipping on all products you choose. It is a unique opportunity!
About Tmart.com
We are an online shopping store, and proud to provide you with a wide selection of products at low prices. At Tmart you'll find electronics, such as digital photo frames, chargers, laser pointers, flashlights, cell phones, car accessories, cameras, game accessories, and more. Enjoy shopping here, and take your favorite products home at a competitive price with worldwide free shipping! We also make every effort to offer you efficient and comprehensive customer service. If you encounter a problem, our responsive and professional customer service team is always ready to help you. We have been universally recognized for our honesty, high efficiency, and comprehensive service.
Contact:
Nick
Tmart.com
718-618-4888, service(at)tmart(dot)com
http://www.tmart.com