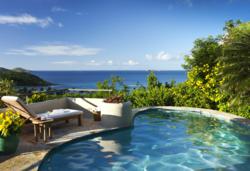 stunning beaches and crystal blue waters
London, UK (PRWEB) November 13, 2012
1. Rosewood, British Virgin Islands
Experience the rolling hills, stunning beaches and crystal blue waters; welcome to the island of Virgin Gorda. The exclusive resort of Rosewood Little Dix Bay is set around a half-mile crescent-shaped bay which is considered to be one of the finest in the world. If that isn't enough to tempt and spoil, a private water taxi will transport holiday makers to seven other secluded local beaches.
Complimentary snorkelling gear, lessons and tours are on offer and a must at plenty of gorgeous snorkelling locations around the islands or right by the crystal waters of the Rosewood where an abundant and colourful barrier reef sits awaiting to be enjoyed and explored.
Spruce up the romance at the Cap de Luca voted in the 50 sexiest hotels by Brides Magazine and in the worlds sexiest beaches by the Travel Channel, rightly so because this serene and private hotel is a heavenly retreat for couples or those wishing for a secluded getaway. Set in Maunday Bay, the mile long white sands of the Cap Juluca beach are sumptuously inviting and provide stunning ocean views from every room in their 18 villas. The area is also a golfers and divers paradise with award winning courses and unique sea bed wrecks to explore. Feeling the explorers urge to splurge? The concierge will organise a mega yacht, helicopter or a jet for excursions.
3. Three Dolphins Beachfront Villa, Turks And Caicos Islands
Make the call to 8 of the nearest and dearest and make it a group holiday of a lifetime at this private 9 bedroom villa that offers elegant spoils and exclusive activities amongst one's own secluded retreat. Take a dip in the personal ocean view pool, get that swing into practice on the private-lit tennis court, or take a stroll down the 3 mile long secluded beach. Surrounded by 2 acres of lush and pristine gardens ensure that the surroundings are constantly easy on the eye which ever direction one looks.
Once a private estate, this grand colonial hotel combines sophistication and luxury perfectly. All of the 105 luxury guestrooms, suites and villas come with spacious balconies and give visitors the choice of ocean or garden views. Every whim will be attended to by a 24 hour personal butler service and there is plenty to keep visitors busy day and night from water activities to excursions. A truly pampering experience at the One&Only Spa which features private spa villas, lush gardens and traditional Asian spa rituals. Be wowed with some of the finest dining the Caribbean has to offer in the form of acclaimed Chef Jean-Georges Vongerichten who will tantalise the taste buds whilst one gazes out over the ocean.
5. Hotel Christopher, St.Barts
A charming and peaceful resort tucked away in Pointe Milou and an ideal location to soak in the Caribbean surroundings, relax and escape the daily humdrum. Plenty of activities to keep one occupied from water sports to golf or slip into the fresh water infinity pool that overlooks the nearby surf. To relax one doesn't even have to leave the hotel room with in room spa treatments on offer! Breakfast and dinner are served with the ultimate accompaniment; an ocean view but be sure to sample the fresh chargrilled seafood at Mango which melt in the mouth as well as the stomach.
About the Company:
Quintessentially Travel is a sister business of Quintessentially, the leading international luxury lifestyle company. Launched in 2000 as a small London based concierge service, Quintessentially (http://www.quintessentially.com) has experienced a complete transformation in a decade, and currently have offices in over 64 cities around the world. The service provided to their discerning and HNW members is proactive and personalised, catering to every member's need, from last minute restaurant bookings, travel arrangements, and access to private parties, as well as fulfilling every unusual request and successfully connecting businesses all over the world. Quintessentially can offer access to the inaccessible and can make the seemingly impossible, possible. In a bid to ensure only the very best service is delivered across the luxury market, Quintessentially has also launched 32 luxury sister businesses comprised of experts in every luxury division. This includes real estate, travel, luxury retail, wine, art, flowers, private aviation and more (http://www.quintessentiallygroup.com).